Cuba: Numero Uno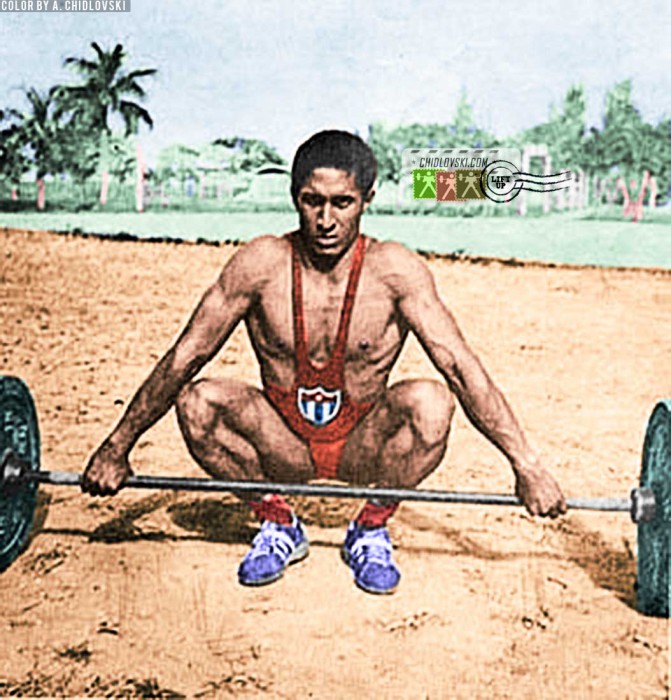 The History in Color series features Cuban lightweight champ Roberto Urrutia training in Cuba.
Roberto "Tony" Urrutia (born in 1957) was the first Cuban weightlifter ever to set a world record (1975) and to win a world title (1977).
On December 25, 1975, 18-year old junior lightweight Roberto Urrutia snatched 138.5kg and set the first world record ever for Cuba. In 1977, he won the World Championship in the 67.5kg class in Stuttgart, Germany. It was the first gold medal won by Cuban athletes at the Worlds.
While competing for Cuba, Roberto won three World championships (1977-1979), two Pan American Games (1975, 1979), took the 4th place at the 1976 Summer Olympics and set 6 world records. He was one of the most prominent athletes in his country and enjoyed privileged life of elite weightlifting celebrity in Havana.
While preparing with Team Cuba for the 1980 Olympic tournament in Mexico, Urrutia escaped from the hotel by climbing out of his hotel window on a bed sheet and asked for political asylum in the U.S. Embassy in Mexico City.
It was a dramatic turn in the life of a 23-year weightlifting champion. He instantly became a not-to-mention-his-name person in Cuba and had no special status of celebrity in his new country.
He didn't speak English, had no friends and no income and place to live in his new country.  For months, Olympic hopeful had to sleep in the back seat of an abandoned car in Little Havana in Miami.
He had odd jobs from time to time – worked as a bouncer in the disco club and a cashier in a convenience store. On his first night at the store, it was robbed and one of the world strongest weightlifters in the world was almost shot by intruders at the gun point.
Roberto gained weight – from a lightweight athlete he ballooned into almost 210 pounds at 5-foot-6 frame. He wasn't up for training. Weightlifting is not a commercial sport in America. Not for newcomers and self-starters in the country for sure.
In fact, he couldn't even compete for Team USA because he didn't have a U.S. citizenship.
In the late 1986, Roberto Urrutia became a U.S. citizen and decided to make a huge comeback to the sport of Olympic weightlifting.
He was no longer a 23-year old promising superstar. He was 29 now.
He was deliberately forgotten and marked as traitor in the old country. He had no support or special treatment by the weightlifting officiials in his new country.
He was on his own. And he did it.
Roberto Urrutia, now known mostly as Tony Urrutia returned to the world class weightlifting.
He won 5 national titles in the United States (1987–1989, 1991, and 1992), won a bronze medal at the 1987 Pan Am Games and went on to represent the USA at two more Summer Olympics in his life (1988 and 1992).
Tony Urrutia did it again- he earned respect and brought his name back to the list of elite weightlifting contenders.