Tommy Kono at the Moscow Prize International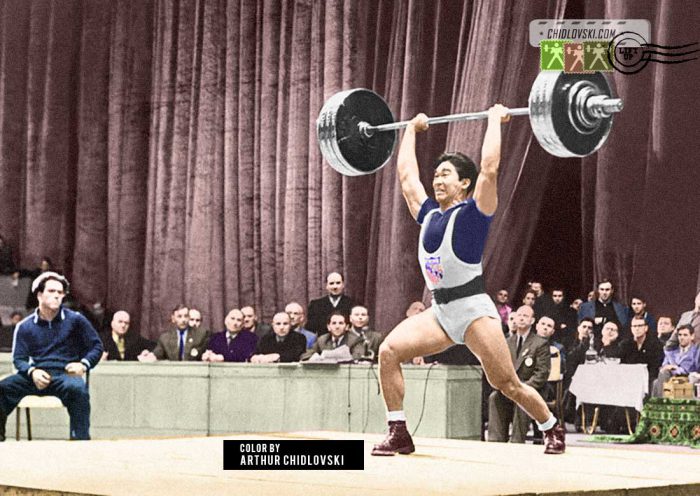 On the History in Color cover photo, legendary Tommy Kono of Team USA competes at the Prize of Moscow.
Norbert Schemansky once said that American weightlifters were more popular in Russia than at home.
Perhaps, there was a lot of truth in this ironic remark. Despite obvious success of U.S. weightlifters during the decades when they dominated this  sport, Olympic weightlifting never really turned into a super popular sports in the United States. In Russia, on the other hand, fans still remember Bob Hoffman and his team.
"Tommy Kono?"- exclaimed many fans in Russia looking at the cover photo. "The "Iron Hawaiian" was superb!"
The names of American weightlifting legends are still being passed from generation to generation with the memories of their lifts and titles in their hey days.
---
1961 Prize of Moscow International
Featuring T.Kono (USA), I.Palinski (Poland), A.Kurynov (USSR), G.Veres (Hungary), L.Martin (Great Britain), V.Stepanov (USSR), V.Lyakh (USSR), J.Kailajarvi (Finland) and more