The Usual Suspects of York Barbell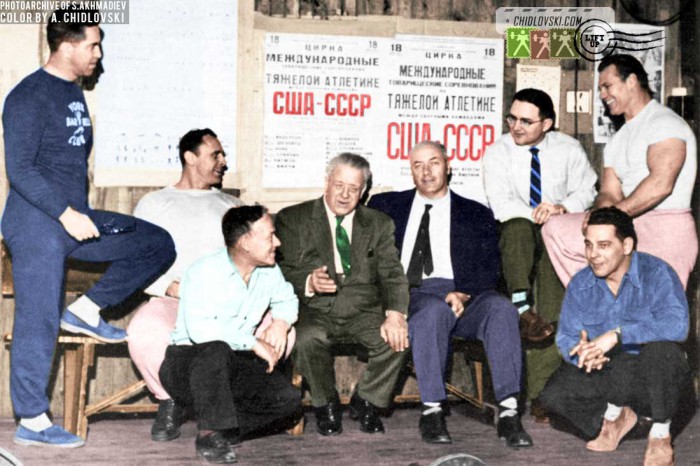 The original caption for the black and white photo said:
"In the 1950s, George F. Jowett held court with the early York barbell crew. Left to right: George Shandor, Steve Stanko, Dick Bachtell, George Jowett, Bob Hoffman, John Terpak, John Grimek, and Jules Bacon (kneeling). By the late 1930s, Jowett claimed he controlled five corporations, with offices in Australia, New Zealand, Europe, Britain, and the Far East. His mail-order students included Johnny Weismuller, Tom Mix, Arthur and Hermann Saxon, Dirk Vanderberg, Ernest Cadine and Adolf and Joe Nordquest."
For someone who masters Russian writings, the posters on the wall are definitely attention grabbers. Those are original posters of the USA vs. USA friendly weightlifting matches held in the Soviet Union back in 1955.
By the way, it was the first ever visit of the U.S. sports team to the Soviet Union.