Khasan Yagly-Ogly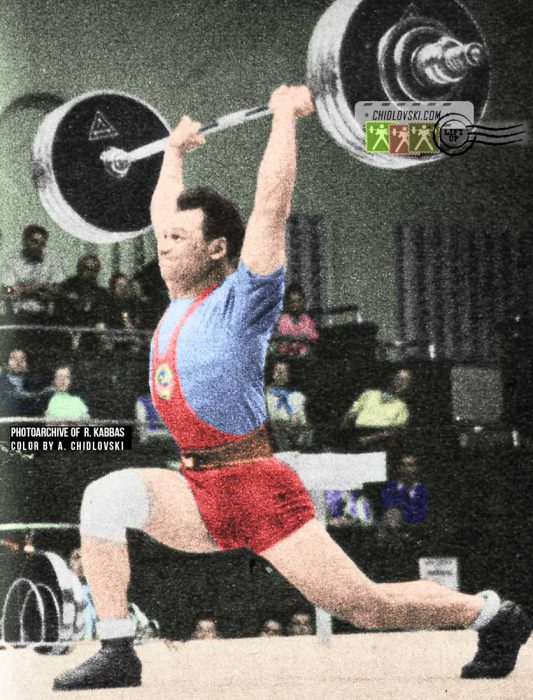 The "History in Color" photo features one  of the pioneers of post World War II weightlifting in the USSR, Khasan Yagly-Ogly (1927-1994) performing the jerk lift at the competition in the 1950s.
Khasan Yagly-Ogly was one of the key figures in the development of Olympic weightlifting in Kharkov, Ukraine.
Before World War II, Kharkov brought such distinguished athletes as Valery Pol, Leonid Allex, Augustus Orlean, Arkady Kasperovich and, of course, world records breaking machine George Popov. The post-was generation included such champions as Fedor Osypa, Igor Rybak, Matvey Rudman and brothers Khasan and Mustafa Yagly-Ogly.
Khasan competed for the Lokomotiv club in the 75kg class. He won the 1957 European Championship and won various medals of the USSR Championhip – silver in 1957 and bronze in 1955 and 1956.
Khasan Yagly-Ogly set 9 records of Ukraine and one USSR record.
In 1963, he was one of the first coaches in Ukraine to earn the title of Merited Coach of Ukraine.