Valery Smirnov of Leningrad, Russia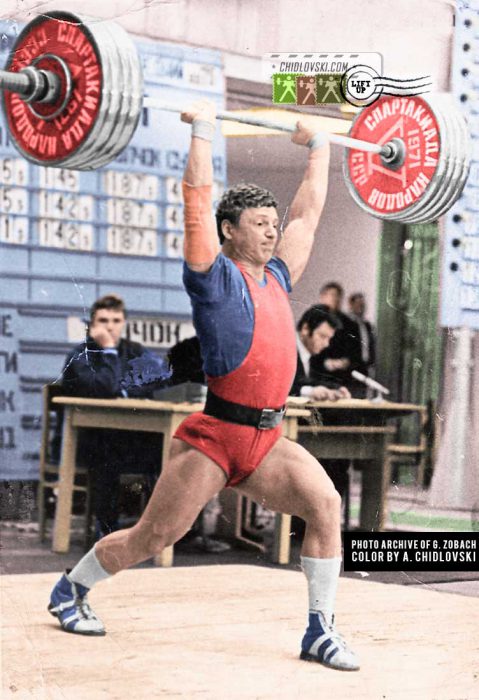 Olympic weightlifter Valery Smirnov (1953-2014, on the cover photo) of Leningrad, Russia was definitely one of the "unsung heroes" of this sport.
For almost a decade, he dominated the 75kg weight class in the Soviet Union. Yet, he was never exposed to the elite international tournaments and very few Iron Game followers knew about him.
On the cover photo, Valery is 18 and competes for his home town Leningrad at the 1971 USSR Spartakiad in Moscow.
By all means, Valery Smirnov deserves a page in the history book as one of the strongest Soviet middleweights of the 1970s. At the USSR Championships, won gold medals in 1976 and 1979, silver medals in 1975, 1978, 1980 and bronze medal in 1973. He was the champion of the USSR Spartakiad in 1979 and vice champion in 1975. He won the USSR Cup in 1975 and was the national champion in the snatch (1975) and clean-and-jerk (1975)  lifts.
Smirnov set two world records and, on many occasions, he was a candidate to Team CCCP. He was very close to compete at the Summer Olympics in 1976. He was already in Montreal when, in the last moment, the coaches decided to go with Vartan Militosyan in the 75kg tournament and Valery Smirnov was sent home.
"Militosyan ended second to Bulgarian Yordan Mitkov, " remembers Georgy Zobach, a friend and teammate of Valery Smirnov. "Valery was a clutch lifter. He would have never lost."
Olympic weightlifting legends of Leningrad (St. Petersburg) in 2011:
(left to right) Georgy Zobach, Pavel Pervushin and Valery Smirnov.
Photo Courtesy of Georgy Zobach.