Arturs Sliede of Riga, Latvia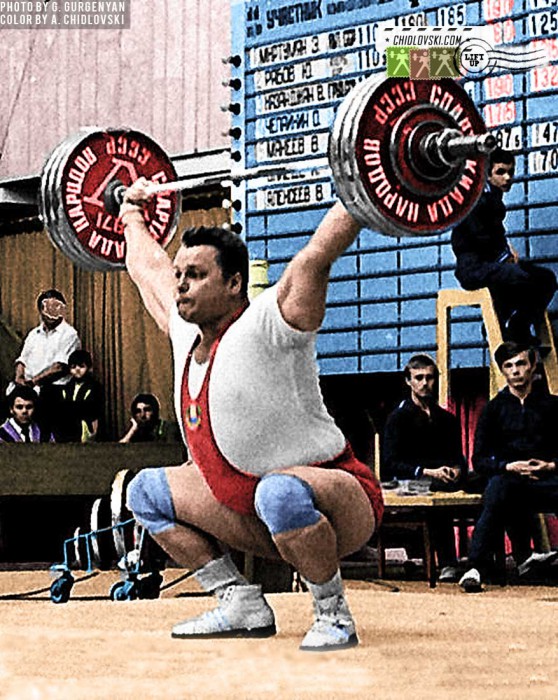 History of Olympic weightlifting consists of many stories about legendary weightlifters, coaches, trainers and administrators.
Some of them are well-known. Some less.
Some for a variety of reasons escaped the spotlight of historic reviews and writings.
One of the incentives behind the History in Color series is to bring back the names of those unsung heroes of the Iron Game.
Arturs Sliede of Riga, Latvia might be considered one of those.
The cover photo depicts Arturs Sliede competing his home republic of Latvia in the super heavyweight class at the 1971 USSR Spartakiad in Moscow.
Arturs was born in 1943 and had a remarkable career in this sport in the 1960s and 1970s. In his career in Olympic weightlifting, Sliede won 5 Latvian titles  and set 45 records of Latvia. He was the second lifter in Larvia to join the 500 Club of those who totaled 500kg in Olympic weightlifting. He reached the magic number in 1969. Legendary Karl Pumpurins also achieved the 500 mark in 1969 but managed to do it a bit earlier than Sliede.
Sliede owns the eternal record of Latvia in total of three lifts. It is  565kg (197,5+157,5+210) and it was set in 1972. The press lift was discontinued in 1973 and Arturs Sliede's record will stay forever.
Needless to say, Arturs was a truly multidisciplinary athlete. Besides being a champion Olympic weightlifter,  he was a champion of Latvia in volleyball and set many records in the track and field tournaments (shot put).