Snatch Lift by Vladimir Kononov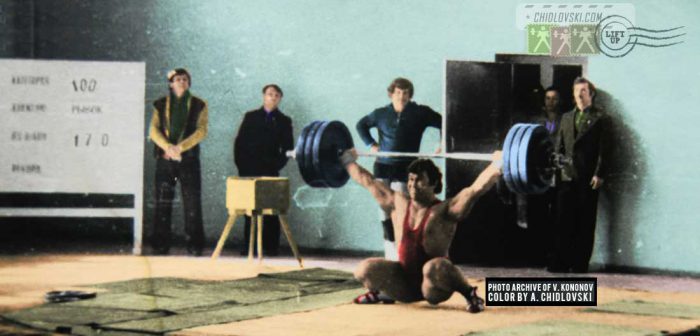 Speaking of how low some of the Olympic weightlifters were able to capture the weight in the snatch lift squat…
On the cover photo Vladimir Kononov of Team USSR snatches 170kg in the 100kg weight class in 1977..
Vladimir Kononov was one of the most talented Soviet athletes that, for various reasons, was rather under exposed on the international arena.
He competed in the sub heavyweight class for the "Trud" club of Novokuybyshevsk and was the vice champion of the USSR (1976). the winner of the USSR Cup in total (387.5kg, 1976) and in clean-and-jerk (227.5kg, 1976).
Throughout his career, Kononov authored 3 world records.