Petr Korol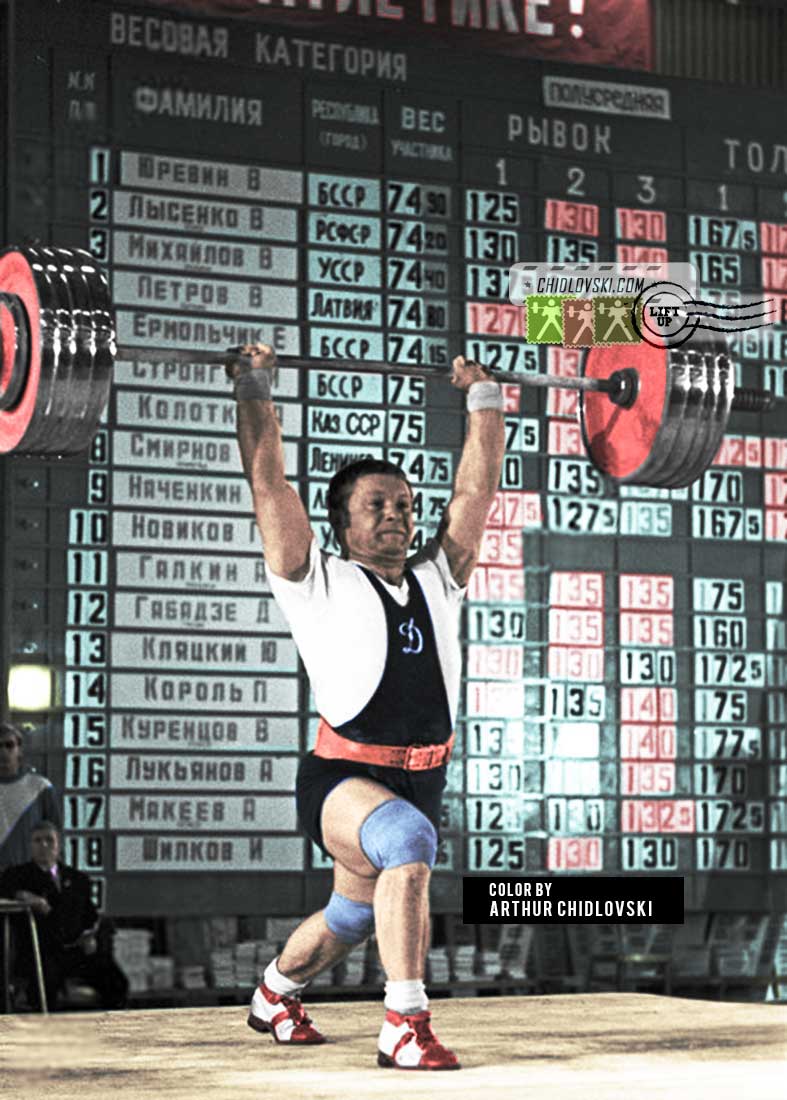 Petr Korol (1941-2015) of Lvov, Ukraine performs clean and jerk lift at the 1973 USSR National Championship in Donetsk.
He won the silver medal with 317.5kg total (135+182.5) in the 75kg weight category.
Three years later, Korol won the 1976 Olympics in the light weight class (67.5kg) with 305kg (135+170).
1973 Championship of the USSR
Location: Donetsk Ukraine
Weight Class: Middleweight  [75 kg]More Info On the 1973 Championship of the USSR
Rank
Athlete
Results (kg)
1
Valentin  MIKHAILOV, Avangard  Voroshilovgrad
327.5 = 142.5+185
2
Petr  KOROL, Dynamo  Lvov
317.5 = 135+182.5
3
Valery  SMIRNOV, Army  Leningrad
310 = 135+175
4
Alexander  LUKYANOV,
305 = 130+175
5
Yury  KLYATSKY,
305 = 130+175
6
Alexander  MIKHEEV,
302.5 = 130+172.5
7
Evgeny  YERMOLCHIK,
300 = 135+165
8
Viktor  LYSENKO,
300 = 135+165
9
Ivan  SHILKIN,
300 = 130+170
10
Victor  NACHENKIN,
295 = 127.5+167.5
11
Valery  PETROV,
295 = 127.5+167.5
12
Vaclav  YUREVICH,
292.5 = 125+167.5
13
David  GABADZE,
290 = 130+160
14
Alexander  GALKIN,
15
Viktor  KURENSTOV,
16
Alexander  KOLODKOV,
17
Joseph  STRONGIN,
18
George  NOVIKOV,