Zhabotinsky In the Training Gym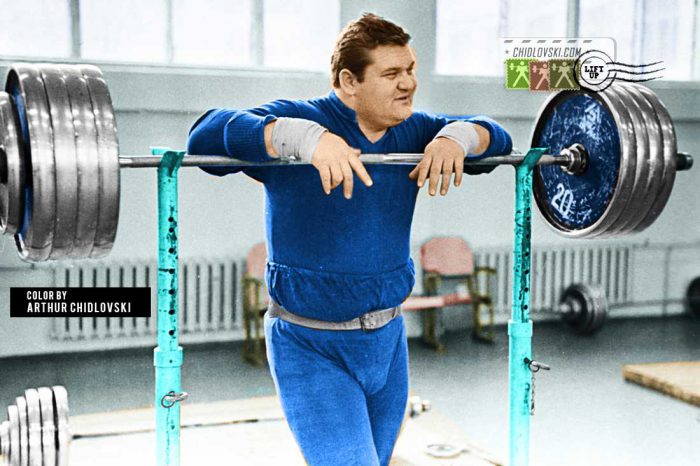 History in Color:
Two-time Olympic champion in the super heavyweight, Leonid  Zhabotinsky is having a good time during the training session in his gym.
The original b/w photo was taken in 1969.
Leonid Zhabotinsky (1938-2016) was a super heavyweight champion from Zaporozhye, Ukraine. He was holding the title of the "world's strongest man" from the 1960's when he won two Olympic gold medals in the super heavyweight division in Tokyo (1964) and Mexico City (1968).
He earned his first gold medal in 1964 in a dramatic battle with his teammate Yuriy Vlasov who held the title of the strongest man on our planet prior to that competition. He literally came from behind after lulling Vlasov into a false sense of security by going up to him and conceding defeat. Zhabotinsky, whose bodyweight was 341 pounds at that time, scored a major upset when, despite his conversation with Vlasov, he defeated Vlasov by breaking his clean-and-jerk record in his final attempt.
When Vlasov realized that he had been the victim of a dishonest trick, he was furious. "I was choked with tears," Vlasov later wrote. "I flung the silver medal through the window… I had always revered the purity, the impartiality of contests of strength. That night, I understood that there is a kind of strength that has nothing to do with justice." Zhabotinsky was crowned as an Olympic champion. In 1968, Zhabotinsky's own bodyweight reached 359 pounds and he easily won his second gold medal at the Olympics in Mexico City.
The Zhabotinsky's era in the super heavyweight class weightlifting came to an end when Vasily Alekeyev, another Soviet athlete, came to international attention with his sensational world records in the 1970's.