Boston Bruins Milestone Teams: 1969-70, Stanley Cup No. 4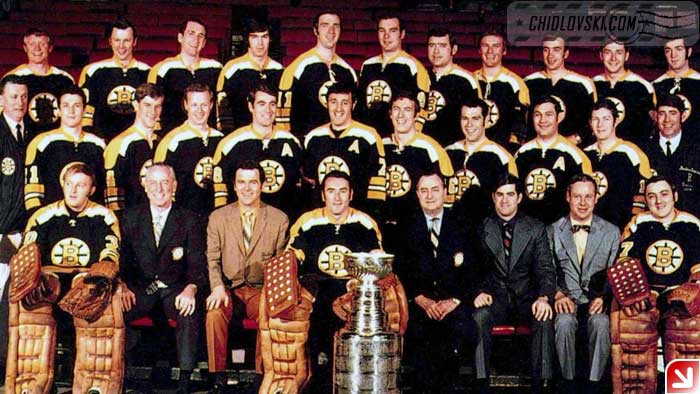 Front row (left to right):
Gerry Cheevers, Milt Schmidt (GM), Harry Sinden (Head Coach), Ed Johnson, Weston Adams, Jr. (President), Tom Johnson (asst. GM), John Adams ;
Middle row (left to right):
Dan Canney (Trainer),Bill Lesuk, Bobby Orr, Wayne Cashman, Ed Westfall, Phil Esposito, Don Awrey, Don Marcotte, John Bucyk, Fred Stanfield, John Forristal (Asst. Trainer);
Back row (left to right):
John MacKenzie, Ron Murphy, Dallas Smith, Derek Sanderson, Wayne Carleton, Ken Hodge, Bill Speer, Ace Bailey, Gary Doak, Jim Lorenz, Rick Smith
In the 1969-70 Season, Boston Bruins won their 4th Stanley Cup. Being an expert on international hockey, I find many familiar faces and names in the team photo featuring the Bruins personnel in the championship season. Many of them took part in the first NHL level world tournaments in the early 1970s.
Harry Sinden was the head coach of Team Canada 1972. Ed Johnson, Phil Esposito, Don Awry, Wayne Cashman and Bobby Orr were selected to play for Team Canada in the 1972 Summit Series. John Forristal was actually the guy who escorted Alan Eagleson to Team Canada's bench in Game 8 in Moscow when the "Eagle" was almost arrested by the Soviet police. According to Eagleson, it wasn't him but Forristal to be blamed for the middle finger hello to the Soviet fans when they were walking on the ice. Phil Esposito became an instant hero in Russian hearts and Soviet players even asked for his autographs in the shower stall after they lost the Series.
Gerry Cheevers, Jim Harrison, John MacKenzie and Rick Smith were members of Team Canada that played vs. Team USSR in the 1974 Summit Series. John MacKenzie even earned unofficial Mr. Aggrevation title among Russian fans of the time.
In 1969-70, Bobby Orr won his 3rd straight Norris Trophy. He dominated the NHL in scoring won also the Hart Trophy . The Bruins finished 2nd with a 40-17-19 record. In the first round of the playoffs, they battled against the NYR as they split the first four games. They managed to straighten out and win the next 2 games. In the semifinals, the Bruins scored 20 goals against Chicago Blackhawks in a four game sweep.
In the finals, the Bruins dominated versus the St. Louis Blues. They won the first three games by a combined score of 16-4. With their first cup in 29 years in reach, the Bruins were taken to overtime. Bobby Orr scored his unforgettable goal by flying through the air 40 seconds into overtime. Orr won the Conn Smythe trophy for his outstanding playoff performance.
Boston Bruins 1969-1970
Record: 40-17-19 (99 points), Finished 2nd in NHL
Coach: Harry Sinden (40-17-19)
Captain:
Arena: Boston Garden
Playoffs
Won Stanley Cup Final (4-0) versus St. Louis Blues
Won Semi-Finals (4-0) versus Chicago Black Hawks
Won Quarter-Finals (4-2) versus New York Rangers
Team Roster
| No. | Player | Pos | Age | Ht | Wt | S/C | Exp | Birth Date | Summary |
| --- | --- | --- | --- | --- | --- | --- | --- | --- | --- |
| 26 | Don Awrey | D | 26 | 6-0 | 175 | L/- | 6 | July 18, 1943 | 3 G, 10 A, 13 P |
| 14 | Ace Bailey | LW | 21 | 5-11 | 192 | L/- | 1 | June 13, 1948 | 11 G, 11 A, 22 P |
| 27 | Nick Beverley | D | 22 | 6-2 | 185 | R/- | 1 | April 21, 1947 | 0 G, 0 A, 0 P |
| 9 | John Bucyk | LW | 34 | 6-0 | 215 | L/- | 14 | May 12, 1935 | 31 G, 38 A, 69 P |
| 11 | Wayne Carleton | LW | 23 | 6-3 | 212 | L/- | 4 | August 4, 1946 | 6 G, 19 A, 25 P |
| 12 | Wayne Cashman | LW | 24 | 6-1 | 208 | R/- | 3 | June 24, 1945 | 9 G, 26 A, 35 P |
| 30 | Gerry Cheevers | G | 29 | 5-11 | 185 | -/L | 5 | December 7, 1940 | 24-8-8, 2.72 GAA |
| 25 | Gary Doak | D | 23 | 5-11 | 175 | R/- | 4 | February 26, 1946 | 1 G, 7 A, 8 P |
| 7 | Phil Esposito | C | 27 | 6-1 | 205 | L/- | 6 | February 20, 1942 | 43 G, 56 A, 99 P |
| 21 | Jim Harrison | C | 22 | 5-11 | 185 | R/- | 1 | July 9, 1947 | 3 G, 1 A, 4 P |
| 8 | Ken Hodge | RW | 25 | 6-2 | 210 | R/- | 5 | June 25, 1944 | 25 G, 29 A, 54 P |
| 1 | Eddie Johnston | G | 34 | 6-0 | 190 | -/L | 7 | November 24, 1935 | 16-9-11, 2.98 GAA |
| 22 | Bill Lesuk | LW | 23 | 5-9 | 187 | L/- | 1 | November 1, 1946 | 0 G, 0 A, 0 P |
| 22 | Jim Lorentz | C/RW | 22 | 6-0 | 190 | L/- | 1 | May 1, 1947 | 7 G, 16 A, 23 P |
| 21 | Don Marcotte | LW | 22 | 5-11 | 183 | L/- | 2 | April 15, 1947 | 9 G, 3 A, 12 P |
| 19 | John McKenzie | RW | 32 | 5-9 | 175 | R/- | 9 | December 12, 1937 | 29 G, 41 A, 70 P |
| 28 | Ron Murphy | LW | 36 | 5-11 | 185 | L/- | 17 | April 10, 1933 | 2 G, 5 A, 7 P |
| 4 | Bobby Orr | D | 21 | 6-0 | 197 | L/- | 3 | March 20, 1948 | 33 G, 87 A, 120 P |
| 16 | Derek Sanderson | C | 23 | 6-0 | 185 | L/- | 4 | June 16, 1946 | 18 G, 23 A, 41 P |
| 20 | Dallas Smith | D | 28 | 5-11 | 180 | L/- | 7 | October 10, 1941 | 7 G, 17 A, 24 P |
| 10 | Rick Smith | D | 21 | 5-11 | 190 | L/- | 1 | June 29, 1948 | 2 G, 8 A, 10 P |
| 24 | Bill Speer | D | 27 | 5-11 | 205 | L/- | 2 | March 20, 1942 | 1 G, 3 A, 4 P |
| 28 | Frank Spring | RW | 20 | 6-3 | 216 | R/- | R | October 19, 1949 | 0 G, 0 A, 0 P |
| 17 | Fred Stanfield | C | 25 | 5-10 | 185 | L/- | 5 | May 4, 1944 | 23 G, 35 A, 58 P |
| 11 | Tom Webster | RW | 21 | 5-10 | 170 | R/- | 1 | October 4, 1948 | 0 G, 1 A, 1 P |
| 18 | Ed Westfall | RW | 29 | 6-1 | 197 | R/- | 8 | September 19, 1940 | 14 G, 22 A, 36 P |
| 27 | Barry Wilkins | D | 22 | 6-0 | 190 | L/- | 2 | February 28, 1947 | 0 G, 0 A, 0 P |
Save
Save
Save
Save