Boston Bruins Milestone Teams: 1938-39, Stanley Cup No. 2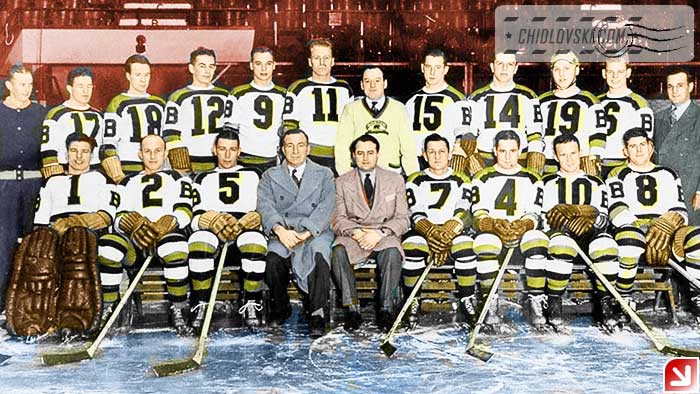 Front row (left to right):
Frank Brimsek (1), Eddie Shore (2), Dit Clapper (3),  Art Ross (Head Coach), Weston Adams (President), Cooney Weiland (Captain, 7), Charlie Sands (4), Bill Cowley(10), Jack Portland (8);
Back row (left to right):
N/A, Bobby Bauer (17), Mel Hill (18), Flash Hollett (12), Roy Conacher (9), Gord Pettinger (11), Win Green (Trainer),Milt Scmidt (15), Woody Dumart (14), Jack Crawford(19), Ray Getliffe (6), N/A
The cover photo introduces the reconstructed team photo of Boston Bruins  in the 1938-39 Season. By many accounts, it was the strongest and most exciting Bruins team in the pre World War II era. It was considered the beginning of the dynasty of Bruins that was interrupted by the was when several key players of the Bruins went to serve their countries in the war against Nazi Germany.

The season started with a big surprise when Boston fans favorite Tiny Thompson was sold to the Detroit Red Wings early in the season and American rookie goalie Frankie Brimsek took over in net. Brimsek had a spectacular season – he won both the Calder and Vezina Trophies.  He had 10 SO's in the regular season and became known  as "Mr. Zero". The Bruins finished 1st  in the NHL with a 31-12-5 record.
In the semifinals vs. the New York Rangers, the Bruins got  three overtime goals (including one in Game 7) from on Mel Hill who earned the "Sudden Death" nickname after his clutch performance . In the finals, the Bruins  managed to beat the Toronto Maple Leafs in five games and won their second Stanley Cup.

Boston Bruins 1938-1939
Record: 36-10-2 (74 points), Finished 1st in NHL
Coach: Art Ross (36-10-2)
Captain: Cooney Weiland
Arena: Boston Garden
Playoffs
Won Stanley Cup Final (4-1) versus Toronto Maple Leafs
Won Semi-Finals (4-3) versus New York Rangers
Team Roster
| Player | Pos | Age | Ht | Wt | S/C | Exp | Birth Date | Summary |
| --- | --- | --- | --- | --- | --- | --- | --- | --- |
| Bobby Bauer | RW | 23 | 5-6 | 150 | R/- | 2 | February 16, 1915 | 13 G, 18 A, 31 P |
| Frank Brimsek | G | 23 | 5-9 | 170 | -/L | R | September 26, 1915 | 33-9-1, 1.56 GAA |
| Dit Clapper | D | 31 | 6-2 | 195 | R/- | 11 | February 9, 1907 | 13 G, 13 A, 26 P |
| Roy Conacher | LW | 22 | 6-2 | 175 | L/- | R | October 5, 1916 | 26 G, 11 A, 37 P |
| Bill Cowley | C | 26 | 5-10 | 165 | L/- | 4 | June 12, 1912 | 8 G, 34 A, 42 P |
| Jack Crawford | D | 22 | 5-11 | 200 | R/- | 1 | October 26, 1916 | 4 G, 8 A, 12 P |
| Woody Dumart | LW | 22 | 6-0 | 190 | L/- | 3 | December 23, 1916 | 14 G, 15 A, 29 P |
| Harry Frost | RW | 24 | 5-11 | 165 | R/- | R | August 17, 1914 | 0 G, 0 A, 0 P |
| Ray Getliffe | C | 24 | 5-11 | 175 | L/- | 3 | April 3, 1914 | 10 G, 12 A, 22 P |
| Red Hamill | LW | 22 | 5-11 | 180 | L/- | 1 | January 11, 1917 | 0 G, 1 A, 1 P |
| Mel Hill | RW | 24 | 5-10 | 175 | R/- | 1 | February 15, 1914 | 10 G, 10 A, 20 P |
| Flash Hollett | D | 26 | 6-0 | 180 | L/- | 5 | April 13, 1912 | 10 G, 17 A, 27 P |
| Pat McReavy | C | 21 | 5-11 | 165 | R/- | R | January 16, 1918 | 0 G, 0 A, 0 P |
| Gord Pettinger | LW | 27 | 6-0 | 175 | L/- | 6 | November 11, 1911 | 11 G, 14 A, 25 P |
| Jack Portland | D | 26 | 6-2 | 185 | L/- | 5 | July 30, 1912 | 4 G, 5 A, 9 P |
| Terry Reardon | C | 19 | 5-10 | 170 | R/- | R | April 6, 1919 | 0 G, 0 A, 0 P |
| Charlie Sands | RW | 27 | 5-9 | 160 | R/- | 6 | March 23, 1911 | 7 G, 5 A, 12 P |
| Milt Schmidt | C | 20 | 6-0 | 185 | L/- | 2 | March 5, 1918 | 15 G, 17 A, 32 P |
| Jack Shewchuk | D | 21 | 6-1 | 190 | L/- | R | June 19, 1917 | 0 G, 0 A, 0 P |
| Eddie Shore | D | 36 | 5-11 | 190 | R/- | 12 | November 25, 1902 | 4 G, 14 A, 18 P |
| Tiny Thompson | G | 35 | 5-10 | 160 | -/L | 10 | May 31, 1903 | 3-1-1, 1.55 GAA |
| Cooney Weiland (C) | C | 34 | 5-7 | 150 | L/- | 10 | November 5, 1904 | 7 G, 9 A, 16 P |
Save