Boston Bruins Milestone Teams: 1928-29, Stanley Cup No. 1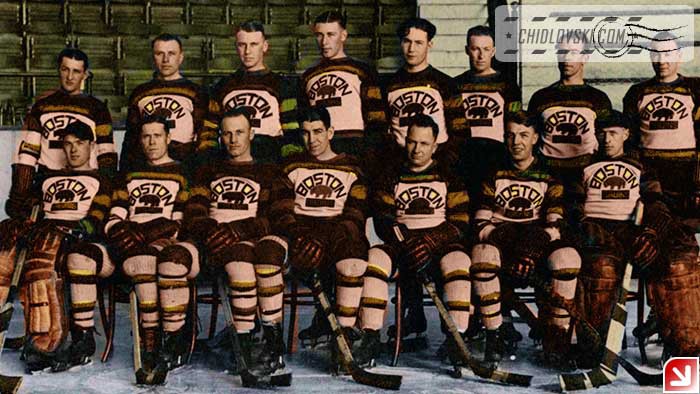 Front Row (left to right):
Tiny Tompson, Frank Fredrickson, Eddie Shore, Lionel Hitchman (captain), Cy Denneny, Dutch Gainor, Hal Winkler
Back Row (left to right):
Cooney Weiland, Harry Oliver, Eric Pettinger, Dit Clapper, Lloyd Klein, Perk Galbraith, Eddie Hodden, Red Green
The reconstructed cover photo features one of the milestone Boston Bruins teams, the one that won the first Stanley Cup in 1928-29.
In their 5th NHL season, the Bruins won their division with a 26-13-5 record.
In the playoffs, the Bruins swept the Canadiens in semifinals in 3 straight games with two shutouts by goalie Tiny Thompson. In the finals, the Bruins won their first Stanley Cup by beating the New York Rangers in two straight games.
Lets go Bruins!
Boston Bruins 1928-1929
Record: 26-13-5 (57 points)
Finished 1st in NHL American Division
Coach: Art Ross (26-13-5)
Captain: Lionel Hitchman
Arena: Boston Garden
Playoffs:
Won Stanley Cup Final (2-0) versus New York Rangers
Won Semi-Finals (3-0) versus Montreal Canadiens
| Player | Pos | Age | Ht | Wt | S/C | Exp | DOB | Summary |
| --- | --- | --- | --- | --- | --- | --- | --- | --- |
| Bill Carson | C | 28 | 5-8 | 158 | L/- | 2 | November 25, 1900 | 4 G, 2 A, 6 P |
| Dit Clapper | RW/D | 21 | 6-2 | 195 | R/- | 1 | February 9, 1907 | 9 G, 2 A, 11 P |
| Cy Denneny | LW | 37 | 5-7 | 168 | L/- | 11 | December 23, 1891 | 1 G, 2 A, 3 P |
| Frank Fredrickson | C | 33 | 5-11 | 180 | L/- | 2 | June 11, 1895 | 3 G, 1 A, 4 P |
| Dutch Gainor | LW | 24 | 6-1 | 170 | L/- | 1 | April 10, 1904 | 14 G, 5 A, 19 P |
| Percy Galbraith | LW | 30 | 5-10 | 162 | L/- | 2 | December 5, 1898 | 2 G, 1 A, 3 P |
| Red Green | LW | 29 | 5-8 | 148 | L/- | 5 | December 12, 1899 | 0 G, 0 A, 0 P |
| Lionel Hitchman (C) | D | 27 | 6-1 | 167 | L/- | 6 | November 3, 1901 | 1 G, 0 A, 1 P |
| Lloyd Klein | RW | 19 | 6-0 | 185 | L/- | R | January 13, 1910 | 1 G, 0 A, 1 P |
| Myles Lane | D | 23 | 6-0 | 180 | L/- | R | October 2, 1905 | 1 G, 0 A, 1 P |
| Mickey MacKay | C | 34 | 5-9 | 162 | L/- | 2 | May 25, 1894 | 8 G, 2 A, 10 P |
| Harry Oliver | RW | 30 | 5-8 | 155 | R/- | 2 | October 26, 1898 | 17 G, 6 A, 23 P |
| George Owen | D | 27 | 5-11 | 190 | L/- | R | February 12, 1901 | 5 G, 4 A, 9 P |
| Eric Pettinger | LW | 24 | 6-0 | 175 | L/- | R | December 14, 1904 | 0 G, 0 A, 0 P |
| Eddie Rodden | RW | 27 | 5-7 | 150 | R/- | 2 | March 22, 1901 | 0 G, 0 A, 0 P |
| Eddie Shore | D | 26 | 5-11 | 190 | R/- | 2 | November 25, 1902 | 12 G, 7 A, 19 P |
| Tiny Thompson | G | 25 | 5-10 | 160 | -/L | R | May 31, 1903 | 26-13-5, 1.15 GAA |
| Cooney Weiland | C | 24 | 5-7 | 150 | L/- | R | November 5, 1904 | 11 G, 7 A, 18 P |
---