Now and Then (1972-2016): The Red Machine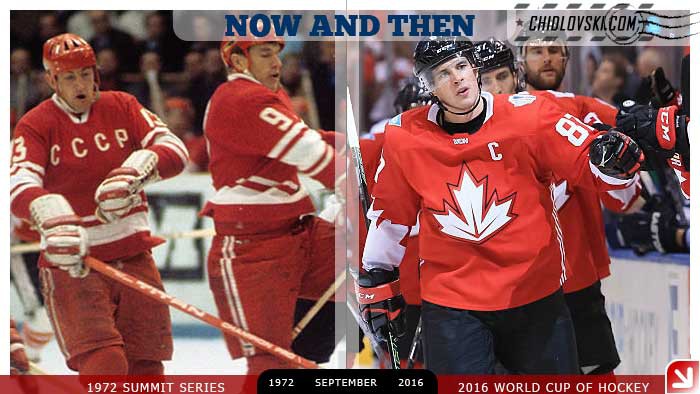 At the press conference after Team Canada defeated Team Russia in the semifinals of the 2016 World Cup of Hockey, Russian head coach Oleg Znarok was asked a question if it was possible to beat this Team Canada machine.
"Machine?" answered Znarok. "They ain't machine. There are ways to play them."
Somehow, it reminded me how similar question was addressed to Team Canada in September 1972 when they were facing another machine – "The Red Machine" in the 1972 Summit Series. Back then someone answered:
"Machine? They ain't machine. Machines don't sweat and machines don't get hurt. We can beat Russians…"
Celebrating the anniversary of the 1972 Summit Series in the middle of the 2016 World Cup of Hockey brings back memories and parallels between times and eras.
Back then, the Soviet team offered a new style of hockey that was a challenge to the established North American style. Bobby Orr even said that Russians were ahead of Canada in hockey development and innovations. It was a cutting edge style and trend of the time. The Russian hockey phenomenon was nicknamed as the "Red Machine."
Time passed.
Teams from both sides of the Atlantic ocean learned from each other and preempted from each other. Very few teams in Russia play pure Russian style and the same goes with the North American teams.
Hockey evolved and moved on absorbing the best from both styles.
There is no more "Red Machine".
Russia came up with the newly "Re-built Red Machine" term but it seems more like a use of a history for publicity purposes.
It seems ironic that now, in September 2016, Team Canada is being called by Russian media as the "Canadian Machine".
Perhaps, it signifies that Canada plays the best hockey in the world now.
Save