What Happens in Russia Stays in Russia: On the Cutting Edge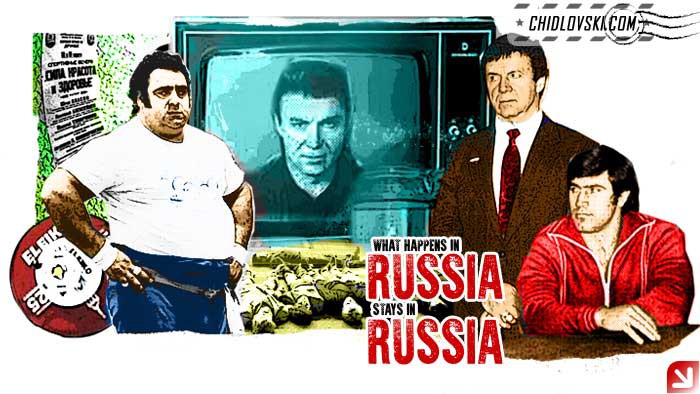 Winning the Olympics At Any Cost Is a Must
Everybody talks about doping and cheating in sports now. It's a hot issue for the media, for sports officials, for athletes… For everybody.
It's not a secret that doping in sports is no news. It existed long before the WADA and long before the newly crowned Olympic champions of Rio were born.
People in sports have always searched for something that will help them to advance over their competitors. The list of areas is long and extensive. Besides pharmacology, it included new training exercises, new methodologies, new equipment.
Despite the recent scandals over PEDs, Russians were not the first in the world to use drugs in sport.
In fact, they got into the big game relatively late – after the end of World War II. The first Olympics for the Soviets was the one  Helsinki in 1952.
However, once the USSR got into the big game and the Kremlin made it a mandatory priority to win the Olympics, they rapidly began to look for improvements to become more "Citius, Altius, Fortius" (Faster, Higher, Stronger).
Early Soviet athletes were behind more established sports nations in techniques. They began to study techniques.
They had no sports methodology, they opened the whole system of scientific institutions to work in this area.
They had no sports equipment. There were special state orders to produce equipment compatible to the latest standards.
Unlike in the Western civilizations, cost of these efforts was not a factor. Under state ownership of everything in the country, the directives from the government were done regardless  of the price tag.
New Sports Super Power Is Born
The Soviet teams reached the level of their competitors much faster that it was to be expected from the rookies. Pretty soon they made their own milestone discoveries in sports.
Just a few examples… In weightlifting, Nikolay Koshelev built the first Russian made barbell and weight plates. Lifters developed the new training methodology that became known as the Russian System.
At the 1954 World Championship in Vienna, Team USA physician Dr. John Ziegler spent hours socializing with the Soviet weightlifters. Being a former Marine and a medical doctor, Ziegler had another talent that happened to be useful in Vienna. He had this unique ability to drink heavy liquors without getting drunk. It allowed him to stay competitive with the Russians in this sport at the long post competition parties. After the tournament, he told Bob Hoffman that he now knew the secret of strength of Russians. Over a night drink in a doc-to-doc talk, he was told that they were experimenting with testosterone.
That was perhaps the first documented account of Russians pursuing pharmacology as a way to advance in sports. Many of Soviet weightlifters if these early era were veterans of World War too. So were their coaches and doctors. They were told that Nazi soldiers were taking testosterone and other drugs in the Air Force and battlefields on the ground. Supposedly, it gave the idea to the Soviets to boost their performance in the sports battlefields of post war peace time.
Of course, these early experiments with drugs and training methods look and sound naive compared to modern sports.
Superpower Is Being Challenged By Bulgaria
Slowing down in experimenting in sports usually meant giving competitors a chance to bypass you. Even a mighty Soviet Union one day realized that their former students from Bulgaria are actually getting better than them in Olympic weightlifting.
The first signal of  a new dangerous opponent came at the 1972 Summer Olympics in Munich. Bulgarians had a superb lifting results. Some experts explained the success of Ivan Abadzhiev's team as a result of tactical mistakes by coaches. A few Soviets bombed out in Minich although they were favorites to win their weight classes. It's true that Boris Pavlov, David Rigert, Valery Shary were eliminated from the competition because they were not able to lift their opening weights. However, ignoring the obvious progress of Bulgarians was a mistake some of the Soviet experts made at the time.
It certainly hurts to realize that someone else was able to improve the sport that you were superior in. There were many cutting edge findings Bulgaria brought into weightlifting.
They were first to introduce early specialization in weightlifting. In the late 1970s, kids in the Soviet Union were allowed to join the weightlifting club only if they turned 14. Bulgarian scouts began looking for talented kids at a much younger age.
Leonid Zhabotinsky was able to win two Olympics training three times a week. He was a super talent in weightlifting but nowadays it is impossible to reach world class results without training 2-3 times a day every day.
The success of Bulgaria couldn't be ignored by the Soviet sports authorities. They assigned several teams of experts to prepare the report in the reasons of weightlifting. Arkady Vorobyev presented his report with one main explanation  – "anabolics". I am not sure if the Soviet sports executives fully bought this finding.
Anyway, I don't think it was a new word phenomenon for the Soviets at the time they realized they are no longer far ahead of their competitors.
Perhaps, the innovation was the new level of intensity in training. The times when Yury Vlasov was calculating in his notes how many times he lifted the planet of Earth in his training sessions was over.
The tonnage era was over. The time of high intensity training became a key. Low reps training lifts replaced x3-6 that were integral for the good old Russian periodization system. Supportive lifts became a rarity in training.
Staying On the Cutting Edge
There were various attempts to add new things to get the winning results in weightlifting.
David Rigert was an outstanding lifter and a role model for many lifters to come. He was a weightlifters' weightlifter. After his retirement from competitions, he started to pursue a coaching carrer. There is a big difference between being a great athlete and being a great coach. Rigert soon began to realize it.
He was appointed to a dream position of Team USSR head coach in 1985. It was a time that Soviets still were able to produce a top notch contenders but the competitors were close. Very close.
Bulgarians were winners in the lighter categories but they began to challenge Rigert's team even on their "shoe-in-for-gold" territory – in the heavier weight classes.
And Rigert tried a new experimental direction for his team. He brought in a special doctor to the team. He brought in a psychotherapist.
Dr. Kashpirovsky
If you don't know who Anatoly Kashpirovsky is, I assume you are not from Russia.
During the late 1980s and early 1990s, Kashpirovsky was a super star of the Soviet TV.
Kashpirovsky was a psychotherapist with a medical PhD, a hypnotist and a national TV healer.
He was able to heal thousands of people perform his sessions in front of the crowds on the football arenas across the country. Then, he expanded his talents on TV viewers. His shows had the highest ratings and he was making millions of dollars on his activities.
His shows were a mix between a medical healing session and entertainment. He performed medical surgeries via TV, hypnotized people over TV and, in many ways, he was a national primary care physician of all patients in the Soviet Union.
He was a man of super powers. Perhaps, sometimes he was too much. One woman even sued him for child support because she got pregnant by him via TV.
Needless to say, Kashpirovsky wasn't a national TV megastar when David Rigert hired him to work with the Soviet weightlifting team. He was a 48-year old psychotherapist from a small Ukrainian town Vinnitsa.
Few people knew him and he was supposed to do a miracle with Team CCCP in weightlifting.
Kashpirovsky was a weightlifter when he was a medical student in Vinnitsa. Even now at 77, he still lifts weights.
Although, no big miracle happened with the national team, Kashpirovsky really enjoyed working with Rigert and team. He remembers thec time with pleasure. In his interview, he mentions that he was able to help some athletes.
Particularly, he points that there is his input in preparing Pavel Kuznetsov for the world record in clean-and-jerk and winning the Olympic title. He remembers working with Israel Arsamakov and Yurik Sarkisyan. Due to intensive training, Sarkisyan had an insomnia and Dr. Kashpirovsky used hypnosis to make him sleep at night.
When Kashpirovsky was asked recently who were the all-time top 3 best lifters, he answered without hesitation:
"I won't tell top 3. I'll tell you top 5.  Those are
Vasily Alexeev
Yury Zakharevich
Yurik Vardanyan
David Rigert and
Yury Vlasov.
They are the best."
No super weightlifting miracles were produced.
Kashpirovsky loved his lifters. Lifters loved him.
After his stint with the national team, Anatoly Kaspirovsky became a national TV mega star in Russia.
Pavel Kuznetsov and Israel Arsamakov became Olympic champions.
There were many other Olympic medals for Russia later on.
Then the WADA era began and it goes on now.
One famous weightlifter recently said  that "What we took in our times is baby steps compared to what they are taking now to overcome WADA listing. It's totally crazy what they do now."
And now Team Bulgaria is banned and the Russian weightlifters were banned from the 2016 Summer Olympics in Rio.
It's a sad point in Russian weightlifting.
Hope it's not the end of the story.
What's Next?
I don't know.
Perhaps, Dr. Kashpirovsky should offer his services not to weightlifters but to sports federations and WADA officials. Just kidding.
I am a historian. Not a fortune teller.
You tell me.
Save
Save
Save
Save