Norbert "Norb" Schemansky (1924-2016)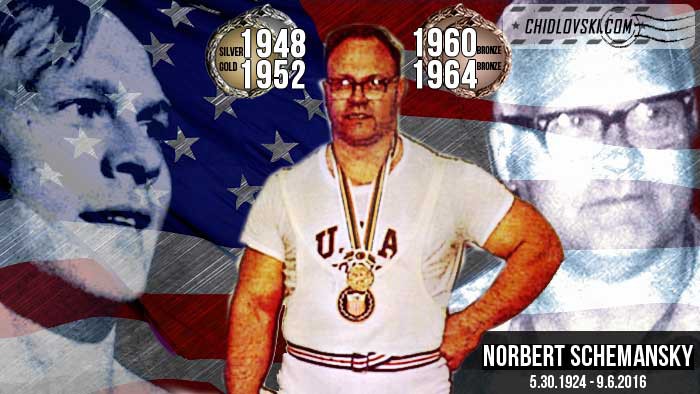 Very sad news came from Michigan.
Legendary Olympic weightlifter and one of the greatest U.S. Olympians,  Norbert "Norb" Schemansky died at 92.
He won medals at four Summer Olympics in London 1948 and in Helsinki 1952, in Rome 1960 and Tokyo 1964.
Schemansky stayed competitive and represented the United States of America internationally for almost 30 years.
He was admired by fellow teammates and respected by the opponents.
He was a true inspiration for several generations of athletes.
Norbert Schemansky was a true legend.
Mr. Weigtlifting is gone.
He will be missed. He will be remembered.
Our thoughts and prayers are with Norb's family now,
R.I.P.
---
Source: howepeterson.com
SCHEMANSKY, NORBERT  "SKI"
September 6, 2016.
Age 92: of Dearborn.
Husband of the late Bernice.
Loving father of Paula (Bob) Sperka, Pamela (Steve) Petro, Larry (Lilly), and Laura (Bill) Rowe.
Dearest grandfather of Tara, Vanea, Kristin, Karrie, Karen, Nori, Steve, Chris, Eydie, and Julie.
Great-grandfather to 16 children.
Norbert proudly served in Normandy, France during World War II.
He is a well-known weightlifter who accomplished breaking 26 world records and winning 4 Olympic medals (and numerous trophies) until the age of 40.  Norbert won 1 gold medal during the 1950 Olympics in Helsinki, Finland, 1 silver medal during the 1948 Olympics in London and 2 bronze medals: 1 during the 1960 Olympics in Rome and the second during the 1964 Olympics in Japan, until the age of 40.
Norbert was inducted into both The Polish-American Hall of Fame and The Michigan Sports Hall of Fame.
He worked for Briggs, Stroh's Brewery, and retired from the City of Dearborn as a Civil Engineer.
Visitation will be held on Friday, September 9th, 1:00 PM until 9:00 PM at the Dearborn Chapel of Howe-Peterson Funeral Home, 22546 Michigan Ave.
Service will take place Saturday, September 10th, 10:00 AM at Howe-Peterson.
Entombment at Michigan Memorial Park Cemetery, 32163 W Huron River Dr, Flat Rock.
Save