Heavy Lifting by Light Heavies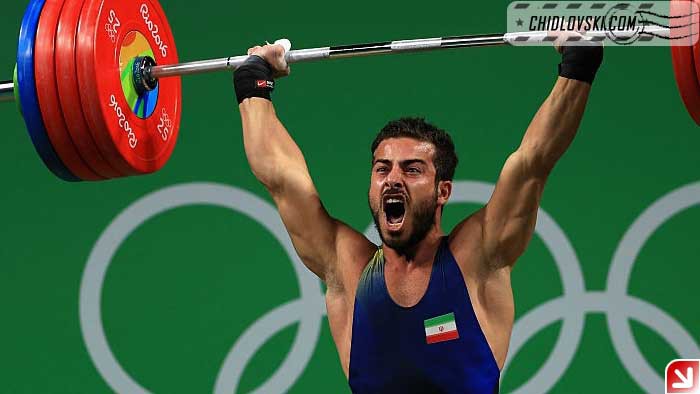 In the lightheavy 85KG class in Rio, Kianoush Roustami of Iran won the tournament with the 396 KG total. It's the new Olympic and world record.
Roustami broke his own world record that he set two months ago at the meet in Tehran. He also broke n Olympic record set by Tao Tian of China just a few minutes before in Rio. Tao won silver medal with 217KG in clean-and-kerk and 395KG in total.
History of Olympics for the most part remembers the champions and the records set. The drama of competition is often forgotten from the sports books.
To be fair, the battle for the title tonight deserves some thoughts. IMHO, the lineup of the athletes was pretty impressive and shaky performace of leaders throughout the night gave chances for other athletes to get to the medal stand.
Two Olympic records by Tao Tian were great  but he barely escaped from bombing out in Rio by having only 2 successful lifts out of 6.
In fact both were his last lifts in the snatch and in the cj. Tao is 22 and had a limited exposure in the top international tournaments. So, it's fantastic to win silver medal at the Olympics but it was a shaky performance.There is alot to learn from this.
It made Chinese coaches nervous during the tournament for sure.
Rostami peaked in May in Teheran and lifted 4 out of 6 in Rio. He had a great night on the platform and made many Iranian fans in the hall proud for his achievements. He added 16KG to his total in London in 2012. At that time he was third. Now, he takes home a gold Olympic medal.
I really liked lifting performance of Gabriel Sincraian of Romania who won the bronze medal. Very fine technician and super explosive lifter, Sincraian had a blast tonight by lifting 6 out of 6 and repeating the Olympic record in clean-in-jerk.
2016 Summer Olympics
Location: Rio de Janeiro, BRA
Weight Class: Light Heavyweight  [85 kg]
Rank
Athlete
Results (kg)
1
Kianoush ROSTAMI, Iran
179+ 217 = 396
2
Tao TIAN, China
178+ 217 = 395
3
Gabriel SINCRAIAN, Romania
173+ 217 = 390