Welcome to the IWF, Burundi!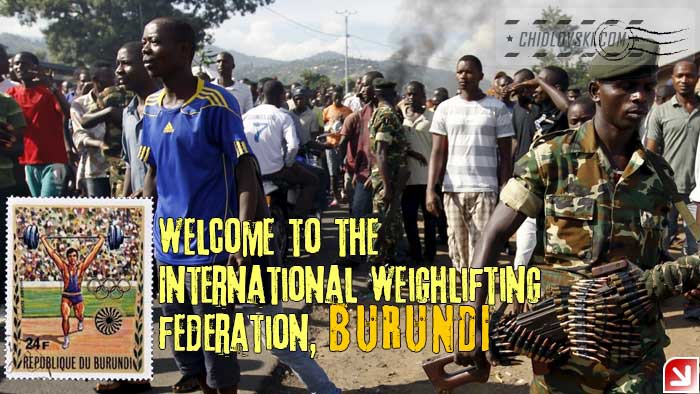 Burundi was ratified as 192nd IWF Member Federation by the International Weightlifting Federation (IWF) Congress.
When I was a kid in Russia, I collected stamps. First time I heard about Burundi was through its colorful stamps.
Now, getting a new member aboard is a great news today. With big time weightlifting stars caught on doping violations and banning of countries from going to the Olympics in Rio in five weeks, welcoming Burundi to the weightlifting world is fantastic!
Burundi is quite a place to reach out with weightlifting.
It is a country with a long history of massacres and genocides, government corruption, people disappearances, arrests and claims of torture. Burundi has the same ethnic politics as Rwanda, where up to 800,000 Tutsis were killed in 1994.
In Burundi, the Hutus make up the majority of the Burundi population, but Tutsis dominate the army and the government. The last time the country went up in flames 300,000 people died.
Burundi is one of the world's poorest countries – seven out of 10 Burundians live below the poverty line.
It seems to be ironic that with the ongoing war against PEDs in sports, the sports federations are least of all thinking about genocide and bloodshed in Burundi. Obviously, meldonium and steroids are the last things athletes of Burundi will be looking for.
Just keep lifting weights, Burundi! Welcome aboard!