Helmut Balderis and Sergey Makarov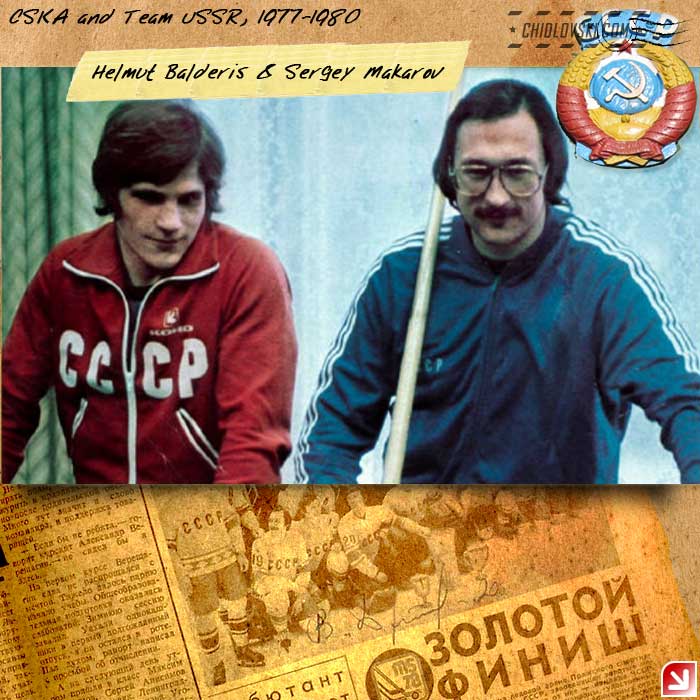 It's a big day for Sergey Makarov and for all fans of Soviet and Russian hockey.
Legendary RW of the KLM line, brilliant forward of all times, Sergey Makarov has been inducted into the HHOF in Toronto, Canada. Besides Makarov, the Class of 2016 also included forward Eric Lindros, goalie Rogie Vachon and defenseman and coach Pat Quinn.
Makarov is the seventh Soviet player inducted into the HHOF. He joined such hockey legends as Vladislav Tretyak, Valery Kharlamov, Vyacheslav Fetisov, Igor Larionov, Pavel Bure and Sergey Fedorov.
Makarov played with our hero Helmut Balderis on many occasions. In 1979-80, Balderis, Makarov and Zhluktov were thrown to play in several tournaments of national team CCCP and for the Red Army in the Soviet Premiere League prior to the 1980 Olympics. The line is pictured in 1980 on the photo below.
Congrats to Sergey Makarov and our Balderisomania continues at Chidlovski.Com!