Hockey Night in Canada in Russian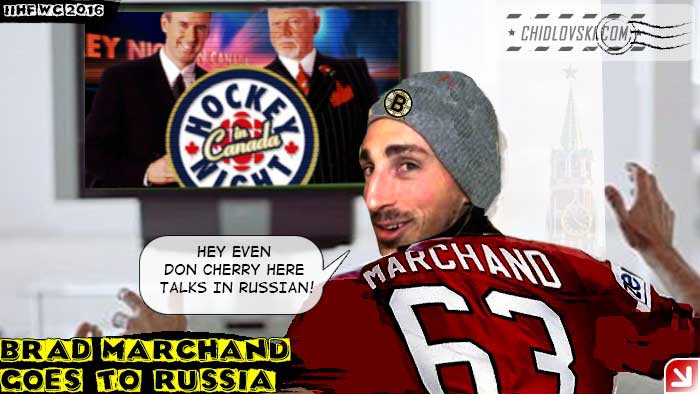 Team Canada and Boston Bruins own Brad Marchand are getting ready for a semi-final game with Team U.S.A. at the  2016 World Championship in Russia.
The semifinals will be played in Moscow and Team Canada has to relocate from St. Petersburg to the capital city.
Everything is odd.
Playing Team U.S.A. in Russia. Everybody speaks Russian.
Even Don Cherry talks in Russian at Hockey Night in Canada broadcast to the hotel rooms.
Team Canada had a great game vs. Sweden in the quarterfinals. The scored 6-0 and Marchand scored #3.
Russia has a huge challenge in the semifinals playing Finland.
Other than that, good luck to all @ 2016 IIHF World Championship in Russia!
Shaibu-Shaibu! Go Canada! Go USA! And… I don't know what to chant in Finnish 🙂
Here is the latest tid bid from Russia for visual folks. Brad Marchand scores against Team Sweden in the quarter-final game  in St. Petersburg:
CAN vs. SWE 32:02 3 – 0 EQCAN63. MARCHAND Brad (14. DUMBA Matt, 55. SCHEIFELE Mark)