Brad Marchand in St. Petersburg: Shall We Dance?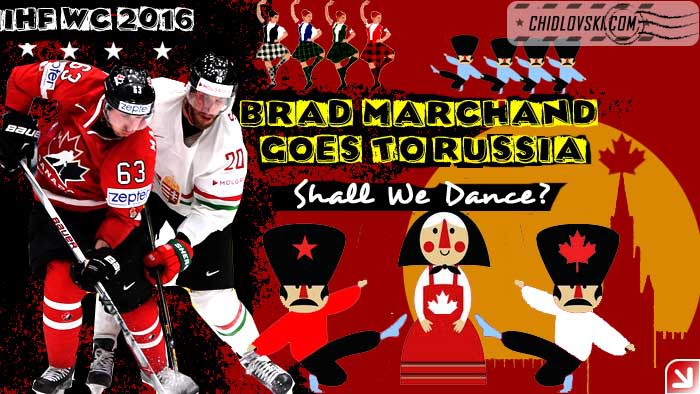 Bruins' winger Brad Marchand went to Russia to play for Team Canada at the 2016 World Championship.
So, far Team Canada and Brad Marchand are doing great. They won 3 in 3 playing vs. USA, Hungary and Belarus.
The Canada vs. Hungary was rather entertaining.
Hungary by all means is not a part of hockey elite nations. It's an achievement even to play on such level for them.
Of course, Canada won but hungarians scored a historical goal in the game. Their first goal against hockey nation in the last 78 years! Who knows but the next goal might come in another 78 years.
Of course, it's a great learning experience – learning the tactics and techniques from the best.
The reports and twitters from Team Canada shows that Marchand is doing great and stay focused on the game.
Just a ping pong game with Brendan Galager 🙂 No parties and wild dancing in the Russian night clubs. He might have learned some cossack dance moves from Hungarian and Belarus guys.
Hey,  it's all good for the championship!
Brad Marchand went to Russia!!! Shall we dance?
Other than that, good luck to all @ 2016 IIHF World Championship in Russia!
Shaibu-Shaibu! Do Toho! Go Canada! Go USA! Heja heja!
Did I miss someone again?