Sadness Of the 4th Dimension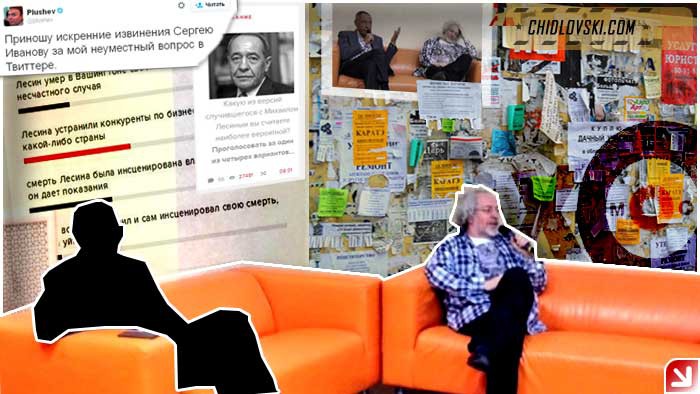 Mikhail Lesin, 59, also suffered injuries to his neck, torso and upper and lower extremities, the medical examiner said in a statement. The medical examiner had not concluded whether the injuries were the result of a crime, an accident or some other means. Washington Post

One law enforcement official said there were no obvious signs of forced entry or foul play in his hotel room. Mr. Lesin did, however, appear disheveled when he returned to the hotel, according to the video surveillance cameras, the official said. But the Russian state media, including the English-language state television network that Mr. Lesin helped found, known as RT, reported that he had died from a heart attack. New York Times
Last Thursday, more light was shed on the cause of death of Mikhail Lesin in the Dupont Circle Hotel in November 2015.  The office of the chief medical examiner in Washington, DC announced that he had not died of a heart attack, but rather of blunt force injuries to his head.
The New York Times and Washington Post published articles on the development of investigation and wrote about Mikhail Lesin and his role in current affairs in Russia. Somehow, both newspapers referred to Mikhail Lesin as a 59-year old aide to Putin and two extra years were added to his age. To a degree, it took some points from the credibility and accuracy of both reports.
Russian media carried on with different views on the mystery surrounding Lesin's death.
He was extremely wealthy financially and powerful politically. According to some estimates, he was worth 2.5+ billion dollars. He was a powerful media mogul in Russia. To list just a few of his career activites, he had years of running major advertising business and just recently was a top manager of Gazprom Media.
He was personally involved and connected to the Kremlin administration of Boris Yeltsin and Vladimir Putin.He was the minister of press and had a commanding influence on media outlets.
People like this don't die at 57 in the hotel in Washington, DC without any reason. It just doesn't happen like this according to many friends and enemies of Mikhail Lesin.
No way.
Rumors and speculations about Mikhail Lesin keep growing.  Remember that big meet with Lesin and Venedictov sitting on the orange couches and answering questions by journalists of the Echo of Moscow? Ironically, the whole Mexican standoff between the staff of the Echo of Moscow and Mikhail Lesin, their boss at Gazprom Media, was triggered by the tacky tweet of one of the radio personalities regarding the death of son of the Chief of Staff of Putin's administration. Now, the turbulence starts about the death of Mikhail Lesin himself.
There is always some mystery in the act of death. It becomes even more evident when it gets into a spotlight of media and grabs the attention of thousands of people. It becomes a bigger mystery when it overlaps with other mysteries in the shades of the worlds Mikhail Lesin managed to deal with.
As for me, I call it a sadness of the 4th dimension. It shouldn't be loud and obnoxious but quiet and decent.
Misha Lesin was a friend and a colleague back in my days in Russia.
I wrote a Memoriam to Misha Lesin last November honestly reflecting my memories of him from the past.
It is always sad to find out that someone you grew up with is no longer around. We are getting to the age when it happens more often. Unfortunately.
R.I.P., Misha!