Forgotten Anniversary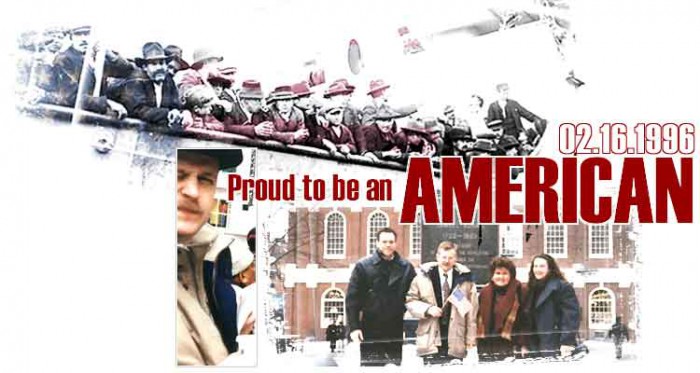 Totally forgot to celebrate my Big Anniversary!
20 years ago I became a U.S. citizen.
Yaho-o-o-o-0, there were about 200 people at the ceremony in the Faneuil Hall in Boston on February 16, 1996 and I bet all had a great time celebrating their 20th Anniversary this February.
Congrats to all and myself!
***
The lady in the office congratulated me with passing the citizenship exams and shook my hand.
"Now, Mr. Chidlovski, congrats. It's a big day in your life…  Would you like to change your name?"
"My name?" – I am a bit puzzled. "What name should I change to?"
"Anything you want!"
"Hm… I like Walter. Walter Chidlovski!"
"Oh, no. I meant your last name. It's a little too long, don't you think?.. Arthur is OK"
"Really. Can I change both first and last name?"
"Certainly. Anything you want to."
"Write me down as Benjamin Franklin."
She smiles. She has a sense of humor.
"It is already taken, Mr. Chidlovski. So be it. You remain Mr. Chidlovski!"
***
20 years passed. For whatever it is worth, I am still Arthur Chidlovski.
Besides, Chidlovski Blog Chidlovski has more vibe in it than Benjamin Franklin Blog Benjamin Franklin. Right?
In a few weeks after the ceremony in the Faneuil Hall, I received a letter from the White House in Washington, DC that stated in the end:
"Hillary and I welcome you as a new citizen and extend our best wishes for much happiness in the future."
The letter was signed Bill Clinton.
I voted five times in the U.S. Presidential elections and five times in the Governors elections in Massachusetts. I am proud to make a difference. I am proud to be an American.
Happy 20th Anniversary, Mr. Chidlovski!