Hockey Fights – No. 19 vs No. 19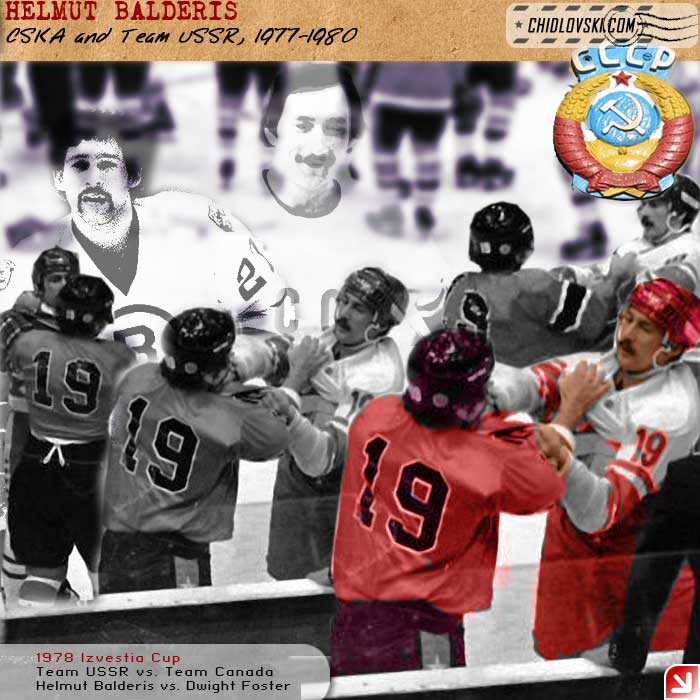 Here we go. ..
December 19, 1978: USSR vs Canada at the 1978 Izvestia Cup in Moscow. Team Canada is selected from the future NHL stars, players drafted by the NHL clubs. The final score  is 9-3. Team USSR demolished their opponents. The Balderis – Zhluktov – Kapustin line had a great night with 5 goals score.  Latvian "electric train" Balderis scored  2 goals.  Kapustin – 2 and Zhliktov – 1. This is great but not particularly rare.
The interesting part was the bench clearing brawl between two teams.
The rarity of the moment was the fight between two No. 19's – Helmut Baderis and Dwight Foster.
The ritual of fighting was a non-existent thing for Soviet hockey at the time. There were no enforcers on the Soviet rosters in the 1970s. No Russian "John Fergusons" or "Dave Schultzes" wearing the Soviet team  jerseys at the time. The Soviets were masters of power play. Drawing penalties was like giving a present of scoring to the opponent.
There is another aspect here. Balderis and fighting on the ice were two completely opposite phenomena of the game.
Balderis was a hockey artist, an unmatched magician of skating and puck handling, a gifted scorer. In fact, at the beginning of his career in hockey, coaches of teenager Helmut Balderis warned that he's not a hockey material because he always avoided the physicality, the "rough part" of the game.
"The Balderis kid is too soft for hockey," – the youth coaches told Victor Tikhonov who was the head coach of Dynamo Riga at the time.
Luckily for Balderis, Tikhonov ignored the advises of the coaches and saw a gift in Balderis. A gift that made him a superstar in the 1970s. That gift, of course, had nothing to do with fist fighting and gloves dropping.
I think the fight between Balderis and Foster is one of the rare moment when I saw Balderis acting without his hockey stick on the ice.
Dwight Foster went on to become a solid two-way center. Foster would play in the NHL from1977 to 1987, finishing with 274 points in 541 career games.
In 1977, he was selected by the Boston Bruins in the NHL draft. The interesting twist here that he was seriously considered by the New York Islanders but in the last moment the coach Al Arbour suggested in favor of Mike Bossy, choosing offensive talent of Bossy vs. defensive and physical forward Foster.
Just a blast from the past.
Special note:
The original photo reproduction is a courtesy of the
WorldHockeyClassic.RU
online collection.