Largest Company by Revenue in Each State 2015
Here is an interesting infographics called The Largest Company by Revenue in Each State 2015. It was developed by Broadview Networks using Hoover's, a D&B Company's data.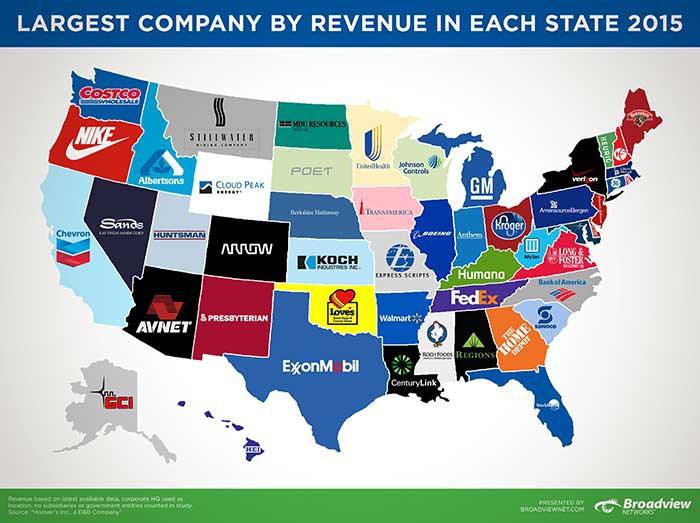 Click the map to enlarge.
You may have seen the Largest Companies by Revenue map we put together in June of last year, well we're back with an updated version using Hoover's 2015 data.  Last year's map created so much buzz and insightful conversation that we deemed it essential to find out how it's changed over the past year.  Using Hoover's, a D&B Company, we searched through each state's list of companies to find which had the largest revenue in the last fiscal year.  It was interesting to see how each company's revenues have changed over the year (for better or worse) and to see if a new largest company had emerged.

At first glance, you may ask, "Where are Apple and Microsoft?"  Yes, these are huge companies but this map is specifically looking at total revenue from the last fiscal year.  If we look at California with Apple vs. Chevron, there is a large discrepancy between market value and total revenues.  Apple's market value as of March 31, 2015 was $724 billion while Chevron's was only (and we use "only" lightly) $197 billion.  In terms of revenue, Chevron comes out on top with $203 billion in the last fiscal year while Apple had revenues of $182 billion.

Please note: We used Hoover's company database as our source, not the most recent Fortune 500 list.  Location and state are based on the corporate headquarters of that company, no branches or foreign offices.  Lastly, we decided not to include any subsidiaries or government entities for the sake of staying consistent.
Original by Broadview Networks
Here is a zoom in segment for New England states: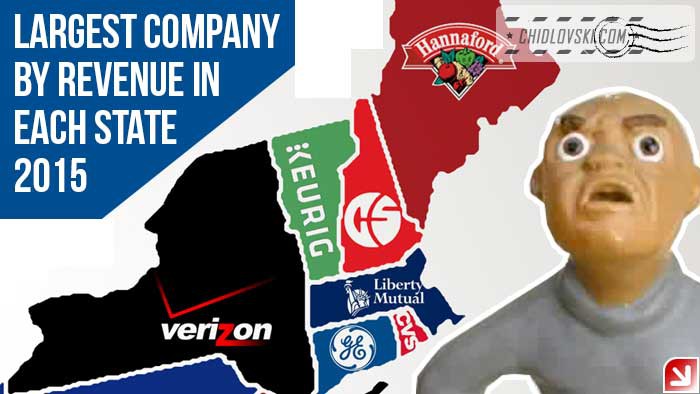 Here is the original data set used for infographics:
| State | 2014 Company | 2014 Revenue (Billion) | 2015 Company | 2015 Revenue (Billion) | Headquarters |
| --- | --- | --- | --- | --- | --- |
| AL | Regions Bank | $5.89 | Regions Bank | $5.40 | Birmingham AL |
| AK | Alaska Permanent Fund Corporation | $4.44 | GCI Inc. | $0.91 | Anchorage AK |
| AZ | Avnet Inc. | $25.45 | Avnet Inc. | $27.49 | Phoenix AZ |
| AR | Wal-Mart Stores | $476.29 | Wal-Mart Stores | $485.65 | Bentonville AR |
| CA | Chevron Corporation | $228.84 | Chevron Corporation | $211.97 | Sam Ramon CA |
| CO | Arrow Electronics Inc. | $21.35 | Arrow Electronics Inc. | $22.78 | Inverness CO |
| CT | General Electric | $146.04 | General Electric | $148.58 | Fairfield CT |
| DE | E.I du Pont de Nemours and Company | $36.14 | E.I du Pont de Nemours and Company | $36.04 | Wilmington DE |
| FL | World Fuel Services | $41.56 | World Fuel Services | $43.38 | Miami FL |
| GA | Home Depot International Inc. | $85.53 | Home Depot International Inc. | $85.90 | Atlanta GA |
| HI | Hawaiian Electric Industries Inc. | $3.23 | Hawaiian Electric Industries Inc. | $3.23 | Honolulu HI |
| ID | Micro Technology Inc. | $9.07 | Albertson's LLC. | $23.56 | Boise ID |
| IL | Archer Daniels Midland | $89.80 | The Boeing Company | $90.76 | Chicago IL |
| IN | WellPoint | $71.02 | Anthem Inc. | $73.87 | Indianapolis IN |
| IA | Transamerica Life Insurance Company | $19.04 | Transamerica Life Insurance Company | $23.34 | Cedar Rapids IA |
| KS | Sprint Communications Inc. | $34.56 | Koch Industries | $115.00 | Wichita KS |
| KY | Humana Inc. | $42.31 | Humana Inc. | $48.50 | Louisville KY |
| LA | CenturyLink Inc. | $18.09 | CenturyLink Inc. | $18.03 | Monroe LA |
| ME | Hannaford Bros. Co. | $3.98 | Hannaford Bros. Co. | $4.41 | Scarborough ME |
| MD | Lockheed Martin | $45.35 | Lockheed Martin | $45.60 | Bethesda MD |
| MA | Liberty Mutual Holding Company Inc. | $38.50 | Liberty Mutual Holding Company Inc. | $36.94 | Boston MA |
| MI | General Motors | $155.42 | General Motors | $155.92 | Detroit MI |
| MN | Cargill Inc. | $136.65 | UnitedHealth Group | $130.47 | Minnetonka MN |
| MS | Sanderson Farms Inc. | $2.68 | Koch Foods Incorporated | $2.80 | Flowood MS |
| MO | Express Scripts Holding | $104.09 | Express Scripts Holding | $100.88 | St. Louis MO |
| MT | Stillwater Mining Company | $1.03 | Stillwater Mining Company | $0.94 | Billings MT |
| NE | Berkshire Hathaway | $182.15 | Berkshire Hathaway | $194.67 | Omaha NE |
| NV | Las Vegas Sands Corp. | $13.76 | Las Vegas Sands Corp. | $14.58 | Paradise NV |
| NH | Sprague Resources LP | $4.60 | C&S Wholesale Grocers Inc. | $21.70 | Keene NH |
| NJ | Johnson & Johnson | $71.31 | Johnson & Johnson | $74.33 | New Brunswick NJ |
| NM | Presbyterian Healthcare Services | $4.60 | Presbyterian Healthcare Services | $2.05 | Albuquerque NM |
| NY | Verizon Communications | $120.55 | Verizon Communications | $127.07 | New York NY |
| NC | Bank of America | $101.69 | Bank of America | $95.18 | Charlotte NC |
| ND | MDU Resources Group Inc. | $4.46 | MDU Resources Group Inc. | $4.67 | Bismarck ND |
| OH | Cardinal Health | $101.09 | The Kroger Co. | $108.46 | Cincinnati OH |
| OK | Love's Travel Stops & Country Stores Inc. | $26.09 | Love's Travel Stops & Country Stores Inc. | $26.09 | Oklahoma City OK |
| OR | Nike Inc. | $25.31 | Nike Inc. | $27.79 | Beaverton OR |
| PA | AmeriSourceBergen | $87.95 | AmeriSourceBergen | $119.56 | Chesterbrook PA |
| RI | CVS Caremark | $126.76 | CVS Caremark | $139.36 | Woonsocket RI |
| SC | Sonoco Products Company | $4.48 | Sonoco Products Company | $5.01 | Hartsville SC |
| SD | Sanford Health | $3.10 | Poet LLC. | $6.00 | Sioux Falls SD |
| TN | FedEx Corporation | $44.28 | FedEx Corporation | $45.46 | Memphis TN |
| TX | Exxon Mobil | $438.25 | Exxon Mobil | $411.93 | Irving TX |
| UT | Huntsman Corporation | $11.07 | Huntsman Corporation | $11.57 | Salt Lake City UT |
| VT | Keurig Green Mountain Inc. | $4.35 | Keurig Green Mountain Inc. | $4.70 | Waterbury VT |
| VA | Freddie Mac | $81.22 | The Long & Foster Companies Inc. | $42.70 | Chantilly VA |
| WA | CostCo Wholesale | $105.15 | CostCo Wholesale | $112.64 | Issaquah WA |
| WV | West Virginia University Hospitals Inc. | $1.38 | Mylan Pharmaceuticals Inc. | $1.24 | Morgantown WV |
| WI | Johnson Controls Inc. | $42.73 | Johnson Controls Inc. | $42.82 | Milwaukee WI |
| WY | Cloud Peak Energy Inc. | $1.39 | Cloud Peak Energy Inc. | $1.39 | Gillette WY |
Sources: Hoover's Inc. A D&B Company, Fortune