Team Canada 1976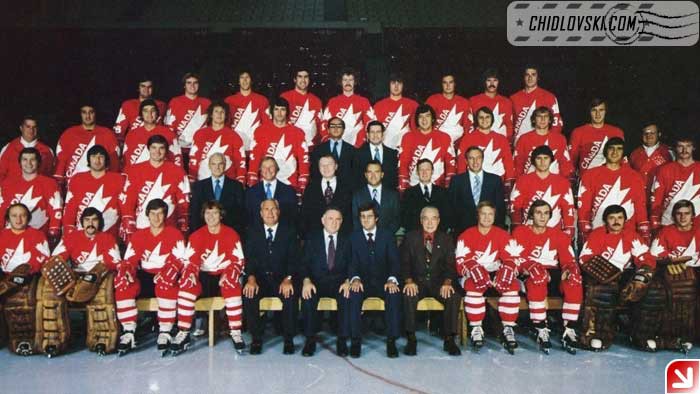 Those are the guys that won the first Canada Cup in 1976.
TEAM CANADA 1976
Back row :    Marcel Dionne, Danny Gare, Jean Pronovost, Jim Watson, Lanny McDonald, Rene Robert, Steve Shutt, Richard Martin, Bob Gainey.
3nd row : Lefty Wilson (Trainer), Phil Esposito, Carol Vadnais, Darryl Sittler, Dave Burrows, Mike Cannon (Business Manager), Dr. Douglas G. Kinnear (Team Physician), Reg Leach, Bill Barber, Paul Shmyr, Dan Maloney, Ed Palchak (Trainer).
2nd row :    Denis Potvin, Guy Lapointe, Peter Mahovlich, Syl Apps Sr. (Special Advisor), Al MacNeil (Coach), Don Cherry (Coach), Scotty Bowman (Coach), Bobby Kromm (Coach), Jean Beliveau (Special Advisor), Gilbert Perreault, Serge Savard, Larry Robinson.
Front row :   Gerry Cheevers, Rogatien Vachon, Bobby Orr, Bobby Clarke, Keith Allen (General Manager), Sam Pollock (Managing Director), Alan Eagleson (Chairman, Canada Cup'76), Toe Blake (Assistant Managing Director), Bobby Hull, Guy Lafleur, Glen Resch, Dan Bouchard.
For those who doesn't know, this is my favorite Team Canada. In many ways, it's my Dream Team Canada.
Back in the days when I just started to get involved in hockey research in North America, I got to speak with one of the writers for the Sports Illustrated. That conversation wasn't off the record and he caught me off guard asking a question:
"What was the best team Canada, in your opinion?"
I really goofed at that time. It's a standard, almost a warm-up question for hockey expert in Canada. I didn't have a prepared answer available at the time.
It is most definitely Team Canada 1976.
Someone might ask… How about Bobby Clarke? Or Don Cherry? Or ex-criminal Alan Eagleson?
With all these purity of criteria settings on, I'd answer yes to all three last questions. Love and hate always co-exist.
And for purity sake without the last two, who knows if the Soviets would have ever been playing in the NHL.
Not in the 1980s.