Forgotten Deal of 1949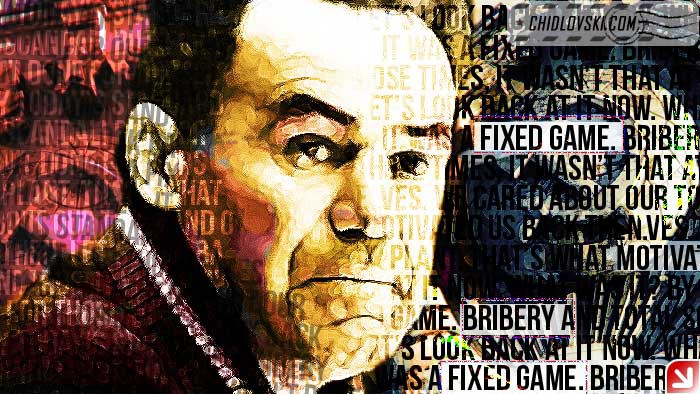 In the light of recent development of criminal accusation of top level FIFA officials, the account of Nikolay Epstein is rather insignificant and, for some, even laughable. 100s of millions of dollars vs. five thousand roubles "gift".
However, for those of us who tend to romanticize the early pioneers of hockey, the story from 1949 told by Epstein below can definitely be very thought provoking.
When we came back to Chelyabinsk, we got the news that we have to go to the town of Perm to play in the finals of the tournament qualifying to play in the Soviet Premiere League. We won the first place there and succeeded to play in Class A. The truth was that our placing depended on the outcome of the game between the "Dynamo" Sverdlovsk and "Burevestnik" Moscow. Had Dynamo won this gane with 4-0 or more, we were to take the first place. Moscow team was pretty good, but they lost two games and had no chances to advance. However, it did matter for the Sverdlovsk team.

I am from Moscow. So, I was sent to talk to Moscow team – "Tell your folks not to screw up this game." And so I went to talk to them. I knew a guy who played in the "Burevestnik" I tried to talk him into this.

"No problem, " he said. "Bring the money and all will be tip top."

We were able to collect5,500 roubles. A solid amount of money for those times.

The game started. "Burevestnik" is loosing 0-3. Then 0-4. Exactly what Sverdlovsk needs to win the place in the Premiere League.

In the intermission I rushed to the "Burevestnik's" locker room.

– What's going on, men? We had a deal!

– Did you bring the money?

– Yes.

– Put it right here and don't worry. We've already told you that will be tip top.

He was right. It changed the whole thing. First, Moscow team tied the game and ten even led with 5-4. But, in the end they lost 7-8. It fit our plans and we got to the Premiere League.

When we came home, we told the story to the GM of the plant we were sponsored by. He began to laugh and paid us back the money we've spent. The whole amount. It didn't matter that we refused to be reimbursed for the money.

Let's look back at it now. What was it? By today's standards, it was a fixed game. Bribery and total scandal! But, for those times, it wasn't that at all. It wasn't done for ourselves. We cared about our town and our plant. That's what motivated us back then.
---
Nikolay Epstein (1919-2005) is one of the most respected and noted hockey coaches, managers and personalities in the history of hockey in the USSR. Along with Anatoly Tarasov and Arkady Chernyshev that are always mentioned as "founding fathers" of Soviet hockey, there were many distinguished contributors to the process of creating a phenomenon of Russian hockey. For over four decades, he worked with the "Khimik" Voskresensk team in the Soviet Premiere League. The list of his players that were trained and brought to hockey by Epstein includes Alexander Ragulin, Eduard Ivanov, Yury Lyapkin, Valery Kamensky, Slava Kozlov, Sergey Berezin, Igor Larionov and many more.