Finding a Difference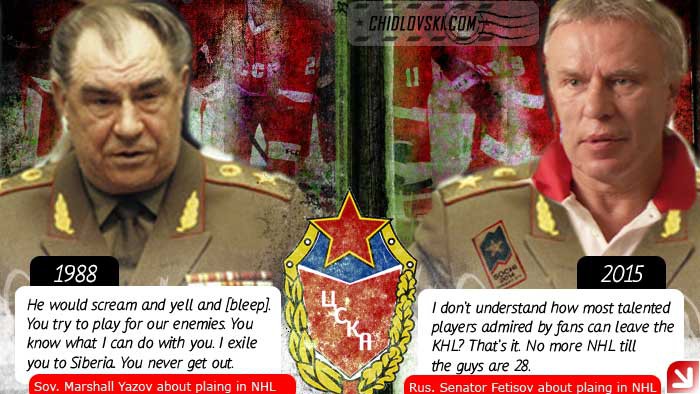 As a follow up to the recent proposal of Slava Fetisov to disallow Russian players to play in the NHL till they turn 28, here is a "Before and After" type of infographics on the subject matter.
Perhaps, I am missing something here but it seems to be a deja vu.
27 years ago, Fetisov was the first Soviet hockey player who challenged the USSR System to play in the NHL. It was a very risky move – Slava went against many powerful figures in the Soviet sports and political figures.
The quote on the left is based on Fetisov's account of conversation with Soviet Marshall Yazov, the Minister of Defense and the official employer of Slava Fetisov  who, besides playing hockey for the Red Army club, was a major of the Soviet Army.
According to Fetisov's interview in the "Red Army" film, those were the words that Marshall Yazov told Major Fetisov when the last one was ordered to appear in the Minister's office.
Now, the words on the right were said by Fetisov in regard to the Russian players who move on to play in the NHL.
Am I the only one who see the twisted similarity in both cases?