Dream Team 1989: Cabaret Glasnost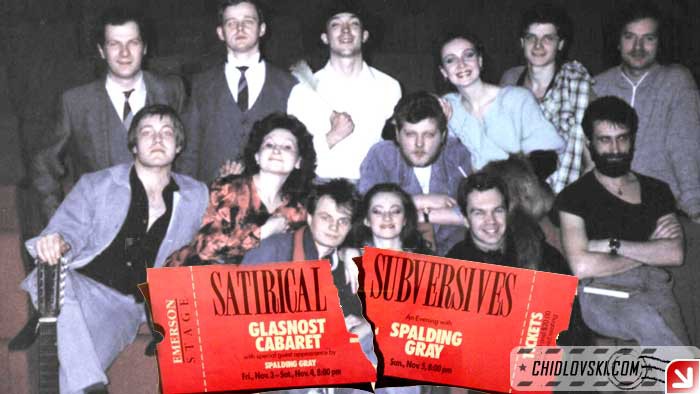 First row:
Alexander Rusakov; Lyudmila Shirshikova, Alexander Arkhipov, Tatiana Bryndina, Vladimir Kirsanov, Alexander Bochko;
Second row:
Alexey Yazlovsky, Arthur Chidlovski, Sergey Pesotsky, Mikhail Khleborodov, Nelly Khleborodova, Sergey Kosach, [Remind me who]
The Cabaret Glasnost was a variety theater at the GITIS arts academy in Moscow Russia. We performed our own sketches and theater classics in Moscow. In 1989, we showcased our program in the USA (Boston MA, New Haven CT)
The foundation for the theater was our class, workshop by Prof. J.G. Sharoev. I wrote sketches and did stand-up comedy for the Cabaret Glasnost from 1988 to 1991 and it was my last official employment in Russia before I left for the USA.
In many ways, it's another Dream Team for me.
Special thanks to Lyuda Shirshikova for sending
the photo as a birthday present this year.