Stanley Cup 2015 and Russian Factor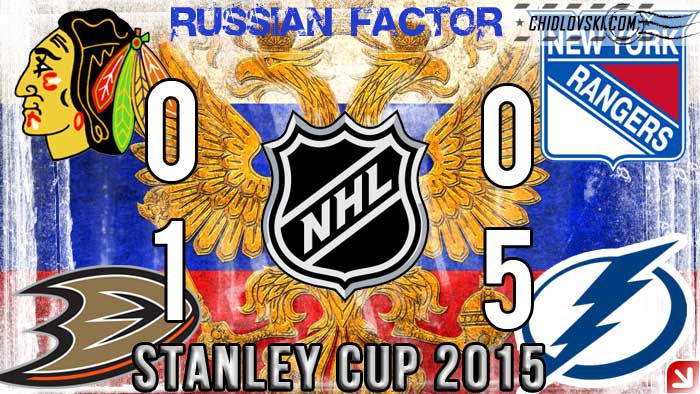 Back when Chidlovski Blog Chidlovski analyzed hockey issues with Russian hockey fan communities, one our approaches to look at the Stanley Cup contenders by the number of Russian trained players on their roster. It certainly not very accurate for any predictions. Still, it was a peculiar guide for Russian fans on teams to root for when their favorites were out of the playoffs.
Using the same approach, the infographics above shows "Russian Factor In the 2015 Stanley Cup Semi-Finals".
Here is the data on the number of Russian schooled players in the regular season that drives the graphics:
Chicago Blackhawks (0 players)
Anaheim Ducks (1 player):
New York Rangers (0 players)
Tampa Bay Lightning  (5 players)
Nikita Kucherov
Vladislav Namestnikov
Nikita Nesterov
Evgeni Nabokov
Andrei Vasilevski
OK. It's not super scientific. Just a fun approach for those who is not from NYC, Chicago, Anaheim or Tampa.
Happy hockey rooting to all!