Dynamo Riga, 1973-74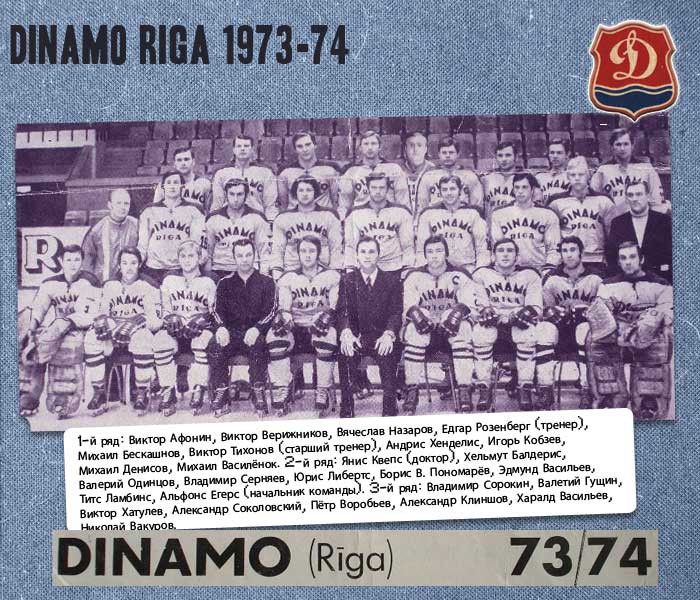 Those who followed this blog for a wile might know that the author was a die-hard fan of the Dynamo Riga team.
The picture above was included in the "Saga of Dynamo Riga" article. It shows the team lineup for the 1973-74 season. It was the team that did a magnificent jump from minor leagues of the secondary level to the elite Soviet hockey league.
To me, it was The Dream Team.
First row:
Viktor Afonin, Viktor Veixhnikov, Vyacheslav Nazarov, Edgar Rozenberg (coach), Mikhail Beskashnov, Viktor Tikhonov (head coach), Andris Hendelis (captain), Igor Kobzev, Mikhail Denisov, Mikhail Vasilenok;
Second row:
Janis Kveps (doctor), Helmut Balderis, Valery Odintsov, Vladimir Sernyaev, Juris Liberts, Boris V. Ponomarev, Edmund Vasiliev, Teets Lambins, Alfons Egers (GM);
Third row: Vladimir Sorokin, Valery Gushchin, Viktor Hatulevs, Alexander Sokolovsky, Petr Vorobiev, Alexander Klinshov, Harald Vasiliev, Nikolay Vakurov.
Sarauj!