Boston Bruins, 1970-71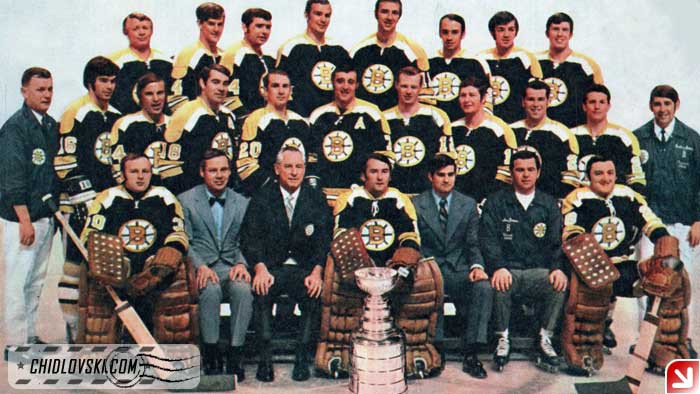 Just a mood booster in the light of upcoming finals for the NHL Eastern and Western Conference finals.
Four teams left in the pursue of Lord Stanley this season and our Bruins are not among them. In fact, this year Boston didn't even make to the playoffs.
For real fans, there is always such thing as next season.
For historian fans, like me, there is always such thing as glorious moments from the past.
On the photo, legendary Bruins team after winning the Stanley Cup 1970-71 – the fourth Cup of Boston Bruins (1929, 1939, 1941, 1970, 1972, 2011)

First row:
Gerry Cheevers, Johnson (assistant coach), Schmidt, Ed Johnson, Adams, Harry Sinden (head coach), John Adams;
Second row:
Canney (assistant coach), Derek Sanderson, Garnet Bailey, Ed Westfall, Dallas Smith, Phil Esposito, Wayne Cashman, Fred Stanfield, Don Marcotte, Bill Lesuk, Farristal (assistant coach);
Third row:
John MacKenzie, Bobby Orr, Bill Speer, Ken Hodge, Wayne Carleton, Gary Doak, Rick Smith and Don Awrey.
Now, here is a quick question for hockey history gurus:
What players and coaches on this picture took part in the 1972 Summit Series between Team Canada and Team USSR?