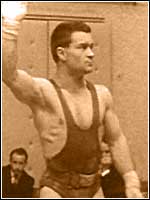 Imre Foldy (b. 1938) is arguably one of the most proficient athletes in the history of Olympic weightlifting. Born in Keczkemet, the farmland of Hungary, Foldy began lifting at the age of 14 and went on to compete at five Summer Olympics and to become the first Hungarian Olympic weightlifting champion ever.
With all his impressive medal and records history, Foldi should also be remembered as an athlete who achieved these results by overcoming a serious handicap after an industrial accident at the very early stage in his career. Working in the mechanic shop, young Imre Foldi lost the third of his ring finger on the right hand. In many cases career-ending, this injury was the explanation of why his snatch lifting wasn't as powerful as his record breaking results in the press lift.
Being an extremely competitive and strong athlete, Foldi had a long and a very successful career in sports. On the national level, he won 13 Hungarian championships. In the 13 World Championships in which he competed, Foldi won an incredible 16 Gold, 16 Silver, and 7 Bronze medals. At the Olympics, Imre Foldi won gold medal in 1972 and silver medals in 1964 and 1968. In 1964, he won the silver medal in the memorable battle with Alexey Vakhonin, USSR. In 1968, he lost the title to Mohammad Nasiri, Iran because he was 300 grams heavier than his opponent. Four years later, Foldi got his revenge taking the Olympic Gold and winning over the very same Nasiri.