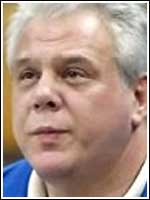 Christos Iakovou is a man responsible for a phenomenal success of Greek weightlifting in the 1990s. As a head coach of Greece, he definitely shares full reponsibility for building the world famous weightlifting powerhouse that became known in Greece as Dream Team.
"Throughout my life, as an athlete, I had always envied the Soviet Union and Bulgaria for the teams they had created. My vision was to create such a team." - remembers Iakovou about his goals when he took over the national team. The task wasn't easy. Greek team showed rather medocre results in the international competitions and, certainly, few outside Iakovou's training campus expected a miracle from Greeks in Olympic weightlifting.
Christos Iakovou was born on April 12, 1948 in Constantinople. At 16, he left for Athens and within a year he won the Greek championships with 296 KG total in the 75KG class. During his lifting career, Iakovou was one of the leading lifters of Team Greece. His strongest lift was Olympic press where he achieved world class results. At the 1972 Olympics, he won a silver medal in Olympic press with the 170 KG lift in the 82.5 KG class allowing only Olympic champion Leif Jenssen to beat him by 2.5 KG. His results in dynamic lifts were more moderate and allowed him to finish 5th with 490 KG total in 1972.
Shortly after the World Championships in 1979 in Thessaloniki, Greece, Christos Iakovou left for the USA with his wife Eleni. During his stay in USA, he coached weightlifting team of the Miami police and tried various business initiatives. In 1988, Iakovou returned to Greece for good.
In many ways, his personal story reflects on how he achieved success with Team Greece. Coming to Greece from outside, wondering all over the world allowed him to develop this "thinking outside the box" concept of building a national team. Iakovou was able to bring ethnic Greek lifters from Eastern European countries that later laid down the foundation of weightlifting Dream Team and became pride of the nation. The idea of bringing an outside talent isn't new per se. However, historically, it never brought the level of success achieved by Iakovou. Some of new arrivals were already established world class athletes. Akakide Kakhiashvislis already won Olympic Gold medal for his native Georgia and Valerios Leonidas was one of the members of Team USSR. Albania brought young and promising Pyrros Dimas, Victor Mitrou, Leonidas Sabanis, Georgios Tzelilis.
Iakovou belongs to the category of coaches that don't shy away from media attention and actually enjoy being in the spotlight. World class results by his lifters is only a part of his success. Ability to present these wins in a mass appeal way, charisma of Greek lifters, popularity of weightlifting in the nation reached its peak under Iakovou's leadership. It became more than a pure medal count in the competitions. It became a symbol and a nation wide pride in Greece.