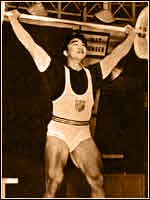 Tamio "Tommy" Kono (b. 1930) is considered the most successful Japanese American weightlifting competitor of the twentieth century, and among the best Olympic weightlifters of all time. He won Olympic medals in three different weight classes from 1952 to 1960: gold in lightweight, gold in light heavyweight, silver in middleweight. He also set world records in four different weight classes, an amazing accomplishment by today's standards.
An asthmatic child, Kono and his parents were among the Japanese-Americans interned at Tule Lake, Calif., during World War II. his health improved in the dry desert air; he began a weight-lifting regimen and by 1952 he was an important member of the U.S. national team led by legendary Bob Hoffman. He was particularly valuable to the team because he was able to increase and decrease his weight without a loss of strength and thus could compete at various weight classes. Kono took national titles as a lightweight (1952), a middleweight (1953), and a light heavyweight (1954–56, 1961–64.
Kono was America's most unbeatable lifter. He was known for his phenomenal lifting technique and determination to win. "When Kono looks at me from the wings," the Soviet lifter Fyodor Bogdanovsky once said, "it works on me like a python on a rabbit."
Besides winning world class Olympic weightlifting competitions, he was also a physique champion, winning the "Mr. Universe" title three times.
After retiring from competition, Kono became a successful lifting coach, training the Mexican national teams from 1966 - 1969 and then coaching the West German national teams from 1969 through 1972. He also coached the first three U.S. women's weight-lifting teams. He led the women to a second-place finish in the first world championship in 1987, and two more runner-up finishes in subsequent world championships.