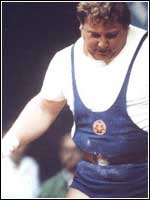 Although Gerd Bonk (b. 1951) never won gold medals neither at the Olympics nor at the world championships, this German lifter definitely deserves some appreciation as one of the distinguished super heavyweight athletes of the 1970's.
The fact was quiet obvious. Vasily Alexeev virtually "owned" the unlimited weight class at that time. Bonk was one of a few super heavyweight athletes that dared to challenge Alexeev in his prime.
Bonk's strongest lifts were his impressive press and clean-and-jerk. He won a bronze medal at the Olympics in Munich in 1972 and a silver medal in Montreal in 1976.